Authentic Japanese dining sensation Sakagura to launch in Heddon Street
May 27, 2016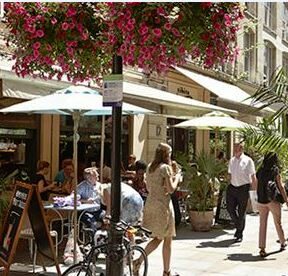 Sakagura, an authentic Japanese restaurant concept, is set to launch a new international dining and sake experience for visitors to Regent Street, following the signing of a lease with The Crown Estate for 8 Heddon Street.
Sakagura will blend urban sophistication with accessible pricing to appeal to a relaxed youthful crowd. With a modern Japanese feel, which includes a dedicated sake bar, the restaurant will comprise a theatrical robata grill and open kitchen.  Diners will be able to watch as chefs create beautifully presented skewer-based dishes known as Hakata yakitori, and then enjoy being served at the traditional wooden kappo counter.  Diners will also be able to enjoy sake from a large range handpicked by on-site sake sommelier as well as sake cocktails devised by expert Japanese mixologists.
Due to open in autumn 2016, the restaurant is the first joint venture between the Japan Centre Group, Gekkeikan – holders of a Japanese Royal Warrant for sake, Japanese plum wine brand Choya plus Michelin-starred restaurant The Araki and the Toridoll Corporation.
Sakagura will join the likes of Gordon Ramsey's Heddon Street Kitchen, North African inspired Momo and vegetarian restaurant tibits on Heddon Street, which was transformed into a pedestrianised food quarter by The Crown Estate in 2008.
Tak Tokumine, CEO of Sakagura, said: "We are really pleased to be bringing this unique and authentic dining and sake experience to this prestigious part of London and joining the thriving dining destination of Heddon Street, alongside other such high calibre restaurants ."
Katerina Mercury, Asset Manager for The Crown Estate's Regent Street Portfolio said: "Sakagura's authentic southern Japanese-style cuisine will represent a sensational new dining option for the millions of shoppers, tourists and workers that visit Regent Street annually. It will add to the diverse range of cuisines available on Heddon Street and we are enthusiastically awaiting its opening this autumn."
The Crown Estate's 20 year, £1 billion Regent Street investment programme began in 2002 and has focused on consolidating the area as one of the world's premier shopping destinations by attracting sought-after fashion brands and establishing an integrated epicurean hub.
Along with Heddon Street, nearby Swallow Street, which counts Bentley's oyster bar and Argentinian steak house, Gaucho amongst its tenants, has been transformed from a hidden back-road into a dining haven. The Crown Estate's regeneration of the Quadrant, at the southern end of Regent Street, has also attracted choice restaurants, including Mash and Brassiere Zedel. The gastronomic rejuvenation also carried through to the organisation's recent redevelopment of New Burlington Street, now home to The Araki, which, with its two Michelin stars, is one of the world's most exclusive sushi experiences.
Davis Coffer Lyons' Development Leasing and London Estates team advises The Crown Estate on its food and beverage portfolio.