Bone Daddies Completes New Site in Marylebone
February 2, 2017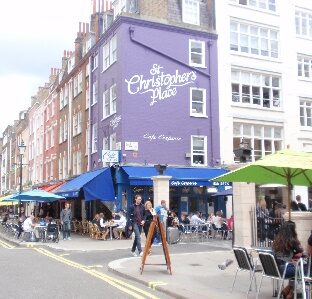 On behalf of BMO Real Estate, Davis Coffer Lyons has completed a deal with ramen bar group Bone Daddies for a new site at St Christopher's Place in London's Marylebone, formerly home to Café Rouge.
The group, operated by chef proprietor Ross Shonhan with executive head chef Tom Moxon – also of Flesh & Buns in
Covent Garden and Shackfuyu in Soho – is to open the two­storey site on James Street which will comprise a nine­seater L­shaped bar, and a 14­-seat communal table in the basement. There will be an open kitchen – with a robata grill ? at the back of the ground floor, allowing guests to see to the chefs at work.
Originally opening in Soho in 2012, the group now has eight sites to its name across London.
Emma Flather, Associate Director, Davis Coffer Lyons, said: "Bone Daddies are a fantastic fit at St Christopher's Place – they embody so many amazing elements of the London food scene at the moment and are constantly evolving their offer to provide a bespoke offering for each new site they take on. There is nothing currently like them in this location and I know they will be a great hit. We have more exciting operators to announce on James Street coming soon!"
The new menu on James Street, created by Shonhan and group executive chef Tom Moxon, will include ramen, robata­grilled and wokfried dishes, with familiar touches from the group's other menus, as well as new dishes for James Street.