British Land submits plans for £300m Meadowhall Leisure Hall
November 8, 2016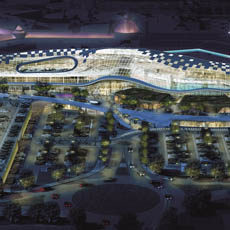 British Land, joint owner of Meadowhall in Sheffield, has submitted a detailed planning application to Sheffield City Council for a £300 million Meadowhall Leisure Hall. Meadowhall is one of the strongest retail destinations in the UK and the proposed extension forms part of a five-year vision to extend the leisure offer at the centre, helping further grow the appeal of the Sheffield City Region.
The extension is the next phase of Meadowhall's evolution and will follow a £60 million refurbishment which is underway and due to complete at the end of 2017. It also builds on the successful leasing strategy, which has seen Ghost, Michael Kors, Diesel and Urban Decay open stores at the centre in recent months.
The planning submission follows extensive consultation by British Land with a wide range of stakeholders. Public exhibitions were held in June and October this year with 93% of respondents expressing support for the proposals.
The extension comprises a 330,000 sq ft multi-level extension housed under an elegant glazed roof, which will add dining and entertainment options not currently available at Meadowhall, as well as high quality internal and external spaces for events and community use. These include new restaurants, a state-of-the-art cinema to replace the existing cinema, a new café court, gym and additional leisure space to offer new experiences and activities, all of which will create a unique and outstanding destination for the Sheffield City Region. The plans also include a new open-air terrace that will allow visitors to dine outside. The Leisure Hall will be integrated with the front of the existing centre to create a new multi-levelled, landscaped open space.
British Land has developed detailed plans to improve accessibility and parking at Meadowhall, including proposals for high-tech electronic signage to show car park space availability, electric car charging points, pedestrian walkways, cycle parking and a cycle lane. No parking spaces will be lost due to the creation of a new multi-storey car park.
Sustainability is also central to the proposals, with solar panels planned for the roof of the new cinema to reduce carbon emissions and will provide at least 10% of the Leisure Hall's energy consumption. There will also be a number of areas of new planting to help reduce air pollution and aid bio-diversity including the new multi-storey car park's 'green walls'.
Sheffield City Council is expected to make a decision in spring 2017. The Leisure Hall will create 540 temporary jobs during its construction and up to 1,400 jobs once complete. Employment opportunities created by the scheme will be promoted locally through Meadowhall's recruitment and training facility, The Source.
Charles Maudsley, Head of Retail and Leisure for British Land, said: "Understanding and anticipating our customers' needs is a key strategic focus area and the Meadowhall Leisure Hall proposals respond to the changing way people live their lives. The exciting £60 million refurbishment completing next year, the continued leasing success and Leisure Hall plans combined reinforce our commitment to ensuring Meadowhall remains an outstanding place for modern consumer lifestyles.
"The Leisure Hall will continue Meadowhall's evolution, creating a place with a bolder, broader and deeper leisure mix. The plans will provide a number of benefits to the entire Sheffield City Region and are complementary to other schemes coming forward which together ensure the region plays a central role in the Northern Powerhouse."
Richard Wright, Executive Director of Sheffield Chamber of Commerce, added: "As consumers, retailers and Sheffield evolves, so too must Meadowhall. The Leisure Hall, however, goes much further. It will retain spend in the Sheffield City Region by ensuring residents do not need to travel out of the area to fulfill their shopping and leisure needs.
"The Leisure Hall will be a jewel in the Sheffield City Region's crown, set amongst other equally important investments in this great city. We therefore welcome British Land's exciting plans and lend them our wholehearted support. They will reinvigorate Meadowhall and serve as a catalyst for further investment in the region."
Meadowhall's £60 million refurbishment is due to complete by the end of 2017. The refurbishment programme uses a range of different materials to create distinct districts with an offer and character of their own. Coinciding with the refurbishment, existing brands at Meadowhall have invested over £24 million in the last two years on store designs and refurbishments to create regional flagships that reinforce British Land's investment.
In addition, brands such as Michael Kors, Diesel, Joules, Kiko Milano, Jack Wills, Urban Decay, Ghost, Hawes & Curtis, Nespresso, The Entertainer, T2, Tapas Revolution, Pret A Manger and Wrapchic have opened at Meadowhall this year. A number of others, including JD Sports, Build-ABear and Virgin Holidays have upsized at Meadowhall in the past three months.
Davis Coffer Lyons Development Leasing team advises British Land on its leisure strategy at Meadowhall and other key developments in its portfolio.