Camden Live Music Venue, The Forge, Hits the Market
April 7, 2017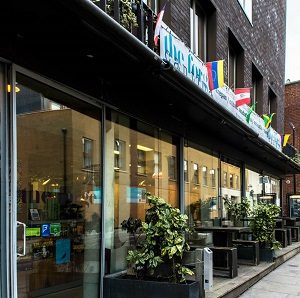 An award-winning, purpose-built live music and arts venue in Camden, The Forge is set to close this week after eight years. On behalf of the private landlord, Davis Coffer Lyons has been instructed to sell the property, seeking freehold offers of £4.5 million.
The 7,000 sq ft (650 sq m) comprises ground and first floor trading areas, including a bar and restaurant and recital hall. It also includes three one bedroom flats separately on the third and fourth floors. Leasehold offers will also be considered.
Located on Delancey Street – off the mid-section of Camden High Street – it is a main thoroughfare linking Regents Park, Primrose Hill and the West End. The Forge will close to trade from Saturday 1 April 2017, with the final event taking place on Friday 31st March. Over the last eight years it has played host to a musically and culturally diverse programme of events including artists such as Songhoy Blues, Dennis Bovell, Russell Howard, Judith Owen, Katsura Sunshine, Bombino, Justin Thurgur, Bear's Den.
Rob Meadows, Director, Davis Coffer Lyons, said, "Camden's exceptional musical and creative culture makes it one of London's most vibrant areas. The tenant calibre for music venues, bars and restaurants is constantly improving and its undergoing considerable improvements to its residential and commercial occupier profile."
Co-founder Adam Card said: "Running a music venue in these times is exceptionally tough and we have reached a point where it is time to close the doors and move on to new challenges. We are immensely proud of what we have achieved over eight wonderful years and our heartfelt thanks go to everyone who has contributed to and enjoyed this unique venue. We always strove to be as diverse, inclusive and welcoming as we could and we hope that these values have touched as many people as possible and will continue to do so."