Capco Welcomes Global Restaurant SushiSamba to its Covent Garden Estate
February 2, 2016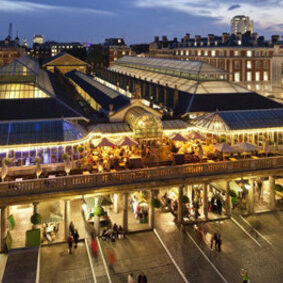 Capital & Counties Properties PLC ("Capco") and Samba Brands Management are delighted to announce that internationally renowned SUSHISAMBA has agreed terms to occupy Covent Garden's famed Opera Terrace within the historic Market Building, creating their latest visionary London restaurant. SUSHISAMBA is operated by Samba Brands Management and has restaurants in London, New York, Las Vegas and Miami.
The Opera Terrace, which is located at the top of the Grade II listed building and comprises c. 9,000 sq ft including a balcony, is uniquely positioned with striking rooftop views across the Piazza. A bold and contemporary renovation of the site will see the existing conservatory replaced with a new Eric Parry glazed design, creating an iconic addition to the Market Building. SUSHISAMBA Covent Garden is expected to open in early 2017.
Sarah-Jane Curtis, Director of Capco Covent Garden, commented: "Our strategy at Covent Garden is focused on providing a world-class retail and dining environment for our visitors. Covent Garden's Opera Terrace is a premier location and a prominent dining pitch in London; we are delighted that SUSHISAMBA will bring its creative blend of Japanese, Brazilian and Peruvian cuisine to the estate."
Shimon Bokovza, managing partner and CEO of Samba Brands Management, commented: "The energy of Covent Garden and its international appeal make it a natural fit for SUSHISAMBA's second London location. We look forward to unveiling our cutting-edge plans and are honoured to join the growing list of pedigree brands that make up Covent Garden's iconic estate."
Davis Coffer Lyons' Development Leasing and London Estates team advised Capco.
For full details, visit: http://www.capitalandcounties.com/news/stories/capco-welcomes-global-restaurant-sushisamba-its-covent-garden-estate