DCL Secures Three New Concepts for Shaftesbury in Soho
August 4, 2016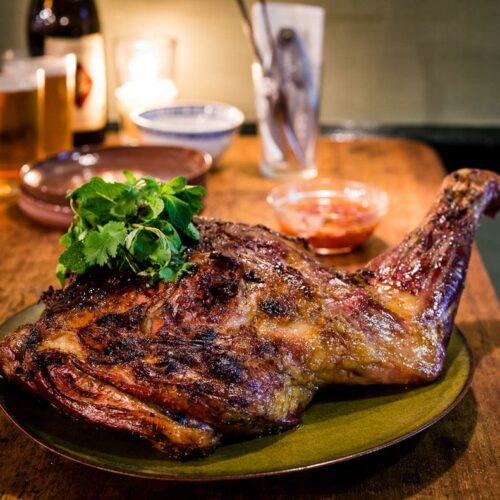 Thai barbecue restaurant and bar, Smoking Goat, has secured premises to open a new venture in central London, through leisure property advisers Davis Coffer Lyons.
Super 8 Restaurants, led by Chef Ben Chapman, and Brian Hannon, the current director of food and restaurants at Selfridges has acquired the former Cafe Rio site at 58 Brewer Street for a new venture called Kiln. The A3 premises total 1,539 sq ft over ground floor and basement, and the new operators hope to open the site next month.
The concept will be focused on rural Thai food in an open kitchen, using live fire clay pots, hand hammered woks and grilling over wood embers. Inspired by the team's visits to the borders of Thailand, there will be a daily changing menu based on Burmese and Yumanese spices and flavours. The menu is simplistic and includes quick grill based dishes, as well as a daily noodle speciality dish.
Emma Flather, Associate Director, Davis Coffer Lyons, said, "Brewer Street is an eclectic neighbourhood full of independent fashion and food operators, interspersed with traditional London pubs. Kiln is an absolutely fantastic concept and we are thrilled have it as part this vibrant day-to-night leisure scene, which benefits from a high concentration of office workers, residential population and theatre-goers."
Also recently confirmed in Soho is Kricket, the Indian small plates and cocktail concept, set to open its first permanent site at 12 Denman Street. The concept is run by Will Bowlby and Rik Campbell and backed by the White Rabbit Growth Fund, the new hospitality investment vehicle founded by ex-­Soho House commercial director Chris Miller, Bowlby and Campbell. Having traded for a year at POP Brixton, the small, neighbourhood restaurant has already become a firm local favourite and been praised by celebrity chefs, including Pierre Koffmann and Michel Roux Jr. 12 Denman Street is an A3 site which comprises 1,659 sq ft over ground floor and basement. It is situated on the doorstep of Soho, Chinatown and Covent Garden, and adjacent to the Ham Yard Hotel, Press juice bar, Engawa restaurant and My Cup of Tea.
Finally, DCL has also secured a deal for Chef Neil Rankin to take a unit at 25 Broadwick Street for his new "whole animal BBQ and wine" concept. Backed by the Imbiba Partnership, the new concept will be called Temper, and will feature a 30-­45 cover wine­tasting room and a 50­-75 cover restaurant and an open kitchen. This will be first solo venture for barbecue guru Neil Rankin, who cooked at Pitt Cue Co in Soho when it originally opened in 2012, then went on to co-found Smokehouse and Bad Egg.
Davis Coffer Lyons advised the landlord Shaftesbury on the three deals.