DCL Welcomes Four Exciting Restaurants to Shaftesbury's Carnaby Estate
November 30, 2017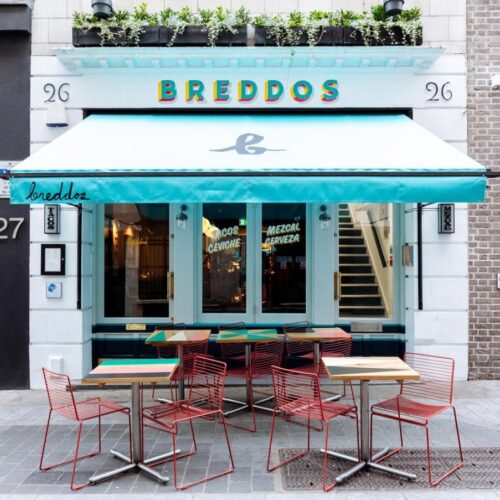 On behalf of landlord Shaftesbury, leisure property specialists Davis Coffer Lyons has secured four new restaurants to open in Carnaby this season: The Good Egg, Claw Carnaby, and the newly opened Breddos Tacos and Pastaio.
The most recent signing is The Good Egg, the casual breakfast-til-late neighbourhood spot serving New York and Middle Eastern influenced dishes. With its original site in Stoke Newington, the concept will open tomorrow, 1st December, its second site at 9 Kingly Court, a new A3 unit which formed part of the former Cha Cha Moon site.
Stevie Parle, chef-owner of Rotorino and Palatino, has this month opened the 1,640 sq ft pasta concept restaurant Pastaio, at 19 Ganton Street, which previously formed the rest of the former Cha Cha Moon premises. Pastaiol serves high-quality, fresh pasta made daily by hand in a 70-seater bold, colourful dining space designed by Tom Dixon's Design Research Studio. Menu highlights include; Tonarelli cacioe pepe, Potato and gravy ravioli, alongside a selection of smaller antipasti dishes. The signature drink will be Prosecco and Aperol slushie, along with a small wine list, encouraging discovery of lesser known Italian growers, all priced by the glass.
Crab concept, Claw Carnaby will also open its first permanent restaurant at 21 Kingly Street on 11 December. Following the success of its site secured by DCL on Finsbury Avenue Square, at British Land's Broadgate scheme and the pop up at The Sun & 13 Cantons on Beak Street, the 50-seater site will focus on responsibly sourced produce from Britain's coast offering all day dining. Claw's ethos is to ensure that they receive the best produce, which they do by dealing directly with fishermen. Signature dishes to include; Crab Mac & Cheese and Pork Stuffed Squid with Kaffir Lime, whilst breakfast will offer exciting dishes such as Bacon & Scallop Muffin.
They join Breddos Tacos, which opened its second permanent site at 26 Kingly Street in October. An 84-seater all day taqueria with exclusive dishes and for the first time, a breakfast menu, also hosts a late-night basement Mezcal and Margarita bar, a large sharing table, counter and bar seating as well as outdoor dining space. The restaurant interior draws inspiration from Oaxaca, Yucatan and Mexico City along with a record player for diners to use with a focus on 50's Mexican music. Menu highlights include signature dishes along with new regionally inspired dishes, all of which are served with Breddos' in-house corn tortillas, using dried heirloom corn from Mexico. The new taqueria also houses a specially designed pizza oven that will be used to make Breddos' interpretations of Tlayudas (Mexican pizzas) whilst the new breakfast offering includes a selection of breakfast tacos alongside exclusive dishes.
The four new restaurants join recent independent openings, Darjeeling Express and Ugly Dumpling in Carnaby.
Julia Wilkinson, Group Restaurant Strategy Executive, Shaftesbury: "Carnaby has always been at the forefront of the West End's ever-evolving food scene and our latest three openings are perfect examples of this. Shaftesbury's championing of emerging concepts and talented young restaurateurs who will join Carnaby's creative and experiential food and drink line-up. Carnaby's diverse mix of 'best in class' food and drink operators continues to grow, appealing to shoppers, tourists and locals in the area."
Nud Dudhia, Co-Founder, Breddos Tacos: "We fell in love with the site as soon as we saw it. It's the perfect size and layout for Breddos, not to mention the incredible location in the heart of Carnaby! It's an exciting time for us, and a brilliant expansion in to an area with so much footfall. We're excited to be in the middle of all the action, alongside some other amazing and inspiring brands including Pizza Pilgrims and Dishoom."
Fabian Clark, Founder, Claw Carnaby: "Shaftesbury has transformed Carnaby into the epicentre for restaurants in the West End. We've always wanted our first restaurant to be within central London and we couldn't think of a better place than Carnaby."
Stevie Parle, Co-Founder, Pastaio: "Soho is the centre of the world for restaurants right now and I'm thrilled to be opening on Ganton Street, Carnaby. It's such a buzzy, brilliant place I can't wait to start cooking delicious fresh pasta for all the Carnaby people."
Through a long-term, innovative management strategy, Davis Coffer Lyons has worked with the Carnaby team at Shaftesbury to create a desirable F&B and retail destination for brands opening concepts that offer a unique consumer experience, reaffirming Carnaby's reputation for attracting young independent brands and exciting global exclusives.