Derwent London Dials up DCL for Leisure Development Advice in Old Street
April 8, 2016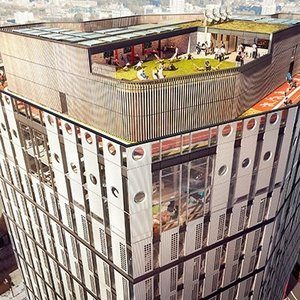 Derwent London has appointed boutique leisure advisers, Davis Coffer Lyons, on its White Collar Factory and Morelands schemes, both in EC1.
The 293,000 sq ft White Collar Factory development, which is scheduled to complete later this year, includes three restaurant units alongside its urban office campus. The highly sustainable scheme also includes a 150 metre rooftop running track, a new landscaped public courtyard, and residential apartments, creating a bustling urban environment that will further enhance the character of the neighbourhood and create a "destinational" hub.
Camilla Topham, Director, Development Leasing and London Estates at Davis Coffer Lyons, said, 'Old Street roundabout is becoming an increasingly interesting foodie location and we are incredibly excited to be working with Derwent London to deliver a unique and diverse restaurant offer in one of the most exciting developments happening at present in Central London.'
The news follows the latest office letting in the last quarter, in which Adobe confirmed it will relocate its UK headquarters from the South East to the City fringe as the battle for young talent intensifies.
Davis Coffer Lyons has also been instructed to advise Derwent London on their restaurant space in their Morelands building; a unique combination of warehouses and workspaces surrounding a rare u-shaped courtyard also located on Old Street.
Davis Coffer Lyons joins alongside existing agents, Shelley Sandzer on the scheme.