Europe's largest Japanese food hall to open at Westfield London
November 14, 2017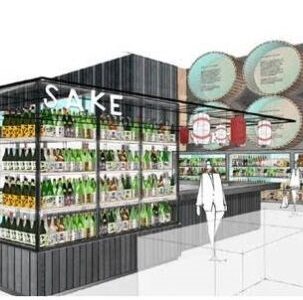 Europe's largest Japanese Food Hall 'Ichiba' will open at Westfield London as part of the centre's £600m expansion.
The 17,400 square foot flagship store will feature food stations dedicated to freshly prepared and cooked food. The main food hall will offer a large range of Japanese staples and kitchen essentials from rice, miso and soy sauce to a wide selection of sake, rice crackers and confectionery, alongside books and hand-picked ceramics from the leading craft prefectures. An enhanced dining offer is a key focus of the 740,000 square foot. expansion of Westfield London which, on launch in March 2018, will make the centre the largest in Europe, almost ten years after its doors first opened. The expansion has been designed to consolidate the centre's position as the go-to destination for not only fashion but food, leisure and entertainment.
Keith Mabbett, director of leasing, Westfield UK and Europe, said: "We're thrilled to announce Europe's largest Japanese food hall will be opening at Westfield London as part of our expansion plans. As well as welcoming more fashion and home retailers to our expansion, innovation in dining and leisure will be a key feature of the new Westfield London, in line with our global approach across our flagship centres. Ichiba is a fantastic concept that will offer our visitors the opportunity to dine, shop and experience Japanese cuisine and culture with an element of theatre, and we know it will be hugely popular."
Ichiba is the first joint venture between the Japan Centre Group and Cool Japan Fund, which helps support businesses to promote Japanese food and culture overseas. The fund's partnerships with local and artisan suppliers across Japan will allow Ichiba to offer authentic products and rare regional produce from some of the best producers and farmers exclusively to the UK. Other partners include Gekkeikan sake and Kikkoman who will be able to offer shoppers a "unique opportunity to sample and try new products while gaining advice and confidence to cook Japanese ingredients at home".
In-store experiences are also a key part of the new format concept. Theatrical kitchens will be set around seating for more than 200 covers with a changing schedule of weekly cooking demonstrations and workshops, events, regional food and drink festivals and sake tasting seminars.
Tak Tokumine, chief executive of Japan Centre, added: "I'm delighted to announce this new concept for people to experience Japanese food culture at Westfield London. Ichiba will be a dynamic and inspiring addition to the expanded centre and retail landscape in the capital."
Davis Coffer Lyons' Development and London Estates Leasing team advises Westfield on its food and beverage strategy in the UK.