Gastro pub business Food & Fuel sold to The Restaurant Group PLC
August 31, 2018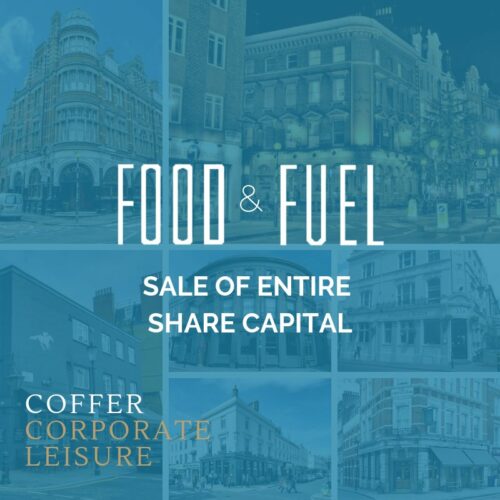 Coffer Corporate Leisure have advised Food & Fuel on the sale of their entire share capital of the business to Brunning & Price, part of The Restaurant Group plc.
Karen Jones, Executive Chairman of Food & Fuel, said "We have owned and operated our pubs for over twelve years and we love them as we love our people. The achievement of 12 years of like for like growth is due to their talent and their commitment. After a series of approaches over the past few years, we finally decided that the future for Food & Fuel was best secured under the umbrella of a larger and well-regarded company that shares our values. That company is Brunning & Price. We look forward to watching Food & Fuel flourish as part of their estate. It remains for me to say a heartfelt thank you to all our people for whom we feel the respect and closeness one reserves for family. And our very best wishes for the future to Brunning & Price whom it has been a pleasure to get to know."
Brunning & Price is the successful gastro pub group of 64 pubs, at the moment mainly in rural locations, that forms part of The Restaurant Group. Its owner-operator approach and firm focus on quality and consistency fit very well with Food & Fuel's philosophy and the exceptional nature of the Food & Fuel estate offers a perfect opportunity for Brunning & Price to establish themselves in London.
"We are delighted to be coming together with Food & Fuel, whose excellent people and unique pubs have impressed us on every visit," said Mary Willcock, MD of Brunning & Price. "It gives us an immediate strong presence in London and we are excited about the opportunities it provides".
Jones, Cumming and Myers will continue to operate and expand Frontier, the 7-strong joint venture with ei Group and have established a new vehicle, Pioneer Hospitality. Karen Jones recently took the lead at Prezzo as Executive Chair, alongside her Chairmanships at Hawksmoor and Mowgli.
Food and Fuel was advised by Coffer Corporate Leisure.
Mark Sheehan, Managing Director of Coffer Corporate Leisure said, "Businesses of the quality of Food & Fuel rarely become available. This is a highly successful, well known gastro pub business in some of London's best trading locations, so it was no surprise that there was very strong interest.   This transaction is an excellent result for both buyer and seller, allowing the former directors of Food & Fuel to focus on other ventures, whilst giving Brunning & Price a large foot in the door of the central London market".