Gourmet Burger Kitchen and Let's Sushi Join the Line-Up at Meadowhall
October 31, 2017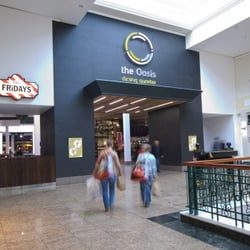 British Land, joint owner of Meadowhall, one of the UK's premier shopping destinations, has announced that Gourmet Burger Kitchen and Let's Sushi will join the line-up at the Oasis Dining Quarter to provide an even broader choice of food at the centre.
Opening in November, Gourmet Burger Kitchen's new 2,500 sq ft restaurant, located on the upper level alongside leading brands like Giraffe, TGI Fridays and Carluccio's, will cater for 100 covers.
Local operator, Let's Sushi, will take a 500 sq ft unit on the lower level opposite Barburrito and in the heart of the family food hall, which includes 1,200 communal seats. The restaurant will be the brand's second site in the city and is set to open before Christmas offering fresh sushi and bento boxes alongside soups and other hot dishes.
Alice Keown, F&B Asset Manager for British Land, said: "Meadowhall's £60 million refurbishment has been a key factor in securing new brands. Gourmet Burger Kitchen and Let's Sushi signing is particularly exciting as it will add even more variety and choice to the Oasis Dining Quarter from the food hall on the lower level, to the 16 family focussed restaurants on the upper level.
"Around 64% of our shoppers choose to have something to eat or drink when they visit, so we are constantly looking for new brands to refresh our offer and create an even more modern and vibrant dining experience."
Keith Bird, Chief Operating Officer for GBK, said: "We have been looking to secure a site in Meadowhall for some time and with so much momentum behind the refurbishment project, now seemed like the perfect moment to take space there. Located in a prime unit at the biggest retail destination in Yorkshire, the new restaurant will help to bring Gourmet Burger Kitchen to a much bigger local audience and is a very exciting next step for us."
The centre's £60m refurbishment will complete before Christmas. 40 brands including All Saints, Hollister, House of Fraser and Hugo Boss have invested £34 million in redesigning and refitting their stores to reflect the centre's new contemporary feel. A further 30 store upgrades are currently underway. Last month, Meadowhall also secured a resolution to grant planning consent for a £300 million Leisure Hall extension.
30 new brands have signed at Meadowhall over the last 18 months, with Flannels, Tag Heuer, Nespresso, Neal's Yard and Godiva all adding to the centre's premium offer. Mail order and e-commerce retailer Joe Browns is set to launch its first ever physical store in early November.
Smith Young and Davis Coffer Lyons represented British Land. John Brady represented GBK and Let's Sushi represented themselves.