Hoppers Comes to St Christopher's Place
July 10, 2017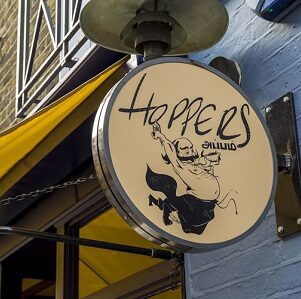 On behalf of BMO Real Estate Partners, Davis Coffer Lyons has secured Hoppers, part of the Sethi family group's JKS Restaurants, for a second site in London's Marylebone.
The Sri Lankan inspired restaurant – and one of 2016's most popular openings – will open on 77 Wigmore Street, St Christopher's Place this autumn, a corner unit on Wigmore Street and James Street.
Offering reservations for lunch and dinner for the first time, the new premises comprise 2,928 sq ft over ground floor and basement, a considerably larger unit than the original in Soho. It will accommodate 85 covers across the two floors plus an additional 16 on an outside terrace.
The menu will feature a number new dishes, including small plates of 'jaffna beef rib fry' and 'tuna & tapioca cutlets with avocado sambol', and larger sharing dishes of 'claypot baby chicken kukul maas', 'string hopper seafood kothu', 'kalupol black pork ribs with fennel and turmeric sambol', as well as a daily changing lunchtime rice and kari plate.
A new drinks list will feature exotic flora, vegetation and fruits of Sri Lanka focusing on genever and local spirit, arrack.
The interiors will be designed by Article Design Studio and take inspiration from Sri Lankan architect Geoffrey Bawa, breaking down the barrier between inside and outside space.
Co-founder Karam Sethi said: "Following the success of the first Hoppers in Soho back in 2015, an increase in travel to Sri Lanka and subsequently the popularity of the country's food and culture in the capital, opening a second, larger Hoppers site seemed like a natural step. We're thrilled to expose even more Londoners to the bold flavours of Sri Lanka and Tamil Nadu."