Hot Pot Fires Up Debut UK Restaurant in Chinatown London
April 10, 2017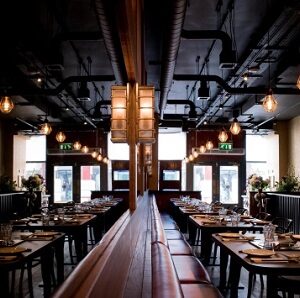 Shaftesbury has welcomed Hot Pot, the Thai hot pot specialists, which has opened its UK debut site in Chinatown London.  Located at 17 Wardour Street, the latest addition to Chinatown London highlights the area's diverse and innovative dining offer that blends modernism with Far Eastern traditions.
Operating over 140 sites in Thailand where the concept was founded, Hot Pot provides a fine dining approach on the brand's delicious simmering Thai hot pots, presented at the table in the traditional way using premium ingredients sustainably sourced and British where possible.  The new 4,240 sq ft Chinatown London restaurant covers two floors with 148 covers focused on seating for larger groups.  Decorated in neutral tones with botanical-inspired wall coverings that contrast with the subtle metallic sheen of darker woven panels, the restaurant is accented by antique mirrors, polished-brass palm wall-lights, crackle-glazed jade tiles and linen table lamps.
Commenting on the new opening, Julia Wilkinson, Head of Group Restaurant Strategy at Shaftesbury, said: "Hot Pot is a fantastic addition to Chinatown London, reinforcing its reputation as the leading destination for pan Asian food in the West End.  As we continue to curate a genuine experience of East Asian culture, we are delighted to welcome Hot Pot for their UK debut, where they will undoubtedly be as popular with Londoners as they are throughout Asia."
Jerry Taechaubolof Hot Pot added: "Hot Pot has traditionally always been a coming together for people of all ages – a cheerful activity that allows family and friends to gather around the pot and take their time to create, celebrate and socialise. We are delighted to bring this way of eating to the UK and introduce an ancient tradition in a modern environment. Importantly we are proud to be part of Chinatown London and be surrounded by many unique food choices"
The opening is the latest in a stream of new restaurant lettings and openings in Chinatown London, following the announcement that new Taiwanese restaurant and bar concept, XU, and Greek Turkish concept Hovarda will be adding to the restaurant line-up in Chinatown London this year.  Earlier this month, Bubblewrap, the waffle cone brand, and healthy fast-food chain, Leon, both opened in Chinatown London.
DCL represented Shaftesbury and Hot Pot represented themselves.