June heatwave and football boosts Britain's pub takings
July 16, 2018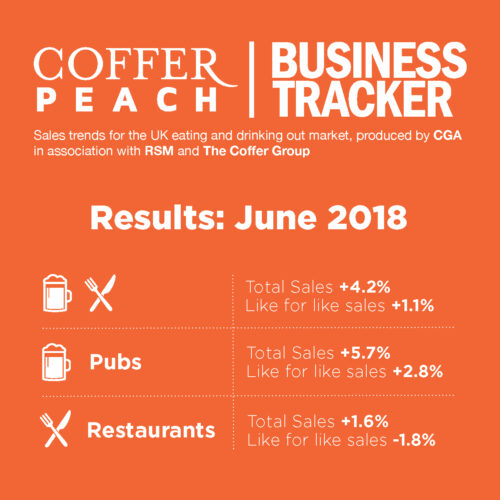 Britain's pubs enjoyed a mini sales boom in June thanks to the hot weather and the start of the World Cup, latest figures from the Coffer Peach Business Tracker confirm. But while the country's managed pub and bar groups saw collective like-for-like sales rise 2.8% against last June, restaurant groups were suffering in the heat with a 1.8% fall in like-for-like trading.
Overall, and despite the differing fortunes of pub and restaurant businesses, the combined managed pub, bar and restaurant sector saw like-for-likes up 1.1% in June.
"Sun and football are usually good news for the pub trade – and with England's World Cup run and the hot weather continuing into July, we should expect more positive trading," said Peter Martin, vice president of CGA, the business insight consultancy that produces the Tracker, in partnership with Coffer Group and RSM.
"Better news is that the usual drop off in restaurant sales during good weather and big sporting events is not cancelling out the boost for pubs and bars. Overall the market is up, and that follows a 1.4% increase for the sector as a whole in May," Martin added.
Regionally London did better than the rest of the country in June, with pub sales up 3.7%, and restaurants down just 0.4%, compared to a 2.3% like-for-like decline outside the M25.
"Not surprisingly, drink-led pubs have performed particularly well, and across the managed pub market drink sales were ahead 5.1%, with food up only 0.3%, for the month," Martin added.
"A month of sunshine and the World Cup may be good news for drinks led businesses but was always going to be tougher for food led operators," added Paul Newman, head of leisure and hospitality at RSM: "However, there will be a sense of optimism for many restaurants with the year on year fall at less than 2%. With the sun set to shine for the rest of July, it could turn out to be a bumper Summer for pubs and bars as they look to take the lion's share of consumer spending."
Underlying like-for-like growth for the 45 companies in the Tracker cohort, which represents both large and small groups, is slowly improving after a tough period, running at 0.7% for the 12 months to the end of June, and up from 0.6% at the end of May.
"The consumer appears to be in more confident mood, buoyed up by a remarkable summer and football success for England. We expect the July data will see a continuation of this trend," said Trevor Watson, Executive Director at Davis Coffer Lyons. "Adverse publicity around the casual dining market certainly is not leading to reduced eating out. Similarly, the effect of discounting in restaurants appears to be marginal."
Total sales growth across the pub and restaurant cohort, which includes the effect of new openings, was 4.2% in June, reflecting continuing if slower brand roll-outs, and running at 3.8% for the 12 months to the end of the month.
The Coffer Peach Tracker industry sales monitor for the UK pub, bar and restaurant sector collects and analyses performance data from 45 operating groups, with a combined turnover of over £9bn, and is the established industry benchmark.
Participating companies receive a fuller detailed breakdown of monthly trading. To join the cohort contact Jake Dolby, jake.dolby@cga.co.uk
About Coffer Peach Business Tracker
CGA Peach collects sales figures directly 45 leading companies. Participants include Mitchells & Butlers (owner of Harvester, Toby, Miller & Carter, All Bar One etc), Pizza Hut, Whitbread (Beefeater, Brewers Fayre, Table Table), Pizza Express, The Restaurant Group (Frankie & Bennys, Chiquitos, Brunning & Price), Spirit Group (Chef & Brewer, Flaming Grill, Fayre & Square), Casual Dining Group (Café Rouge, Bella Italia, Las Iguanas), Stonegate (Slug & Lettuce, Yates', Walkabout), Deltic, TGI Fridays, Marston's, Azzurri Restaurants (Zizzi, ASK), Wagamama, YO! Sushi, Prezzo, Novus (Tiger Tiger), Fuller's, Carluccio's, Young's, Living Ventures, The Alchemist, Gusto, Strada, Amber Taverns, Hall & Woodhouse, Gaucho, Giraffe, Loungers, Byron, New World Trading Co, Peach Pub Co, Le Bistrot Pierre, Laine Pub Co, All Star Lanes, Le Pain Quotidien, Fazenda, Liberation Group, Wadworth, Honest Burgers, The Snug Bar, Downing LLP (investment partner of Antic London), Bermondsey Pub Company, Revolution Bars Group, Polpo Ltd. and McMullen & Sons Ltd.
Coffer Peach Business Tracker is powered by Demographix