Kingly Street Thriving as the West End's Dining Destination with Dishoom and Shotgun to Launch This Autumn
July 10, 2015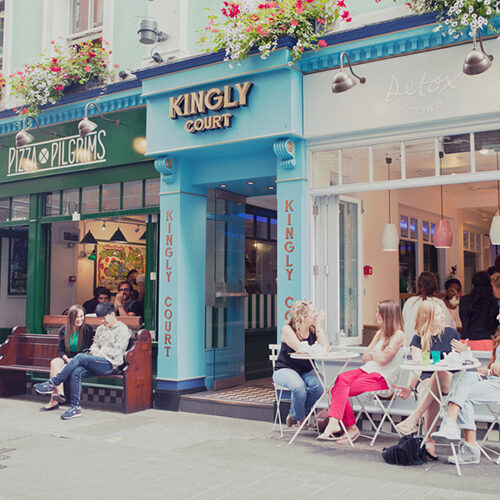 Two exciting new restaurants will launch on Kingly Street in autumn 2015, cementing its reputation as a key dining destination for the West End.
Acting on behalf of Shaftesbury PLC, Davis Coffer Lyons – the leisure specialists – have let sites to the team behind The Lockhart to launch new BBQ concept Shotgun, and Dishoom.
This is the fourth site for the hugely popular Dishoom, which was founded by Shamil and Kavi Thakrar who opened the first site in 2010 in Covent Garden before expanding to Shoreditch and King's Cross (ranked 21st in the UK's top 100 restaurants at this year's National Restaurant Awards). The concept pays homage to the cafes opened by Iranian immigrants in Bombay in the 1920's and serves an all-day dining menu including Bombay breakfast, lunch, afternoon chai, dinner and tipples.
The new 6,370 sq ft restaurant at 22 Kingly Street is part of Shaftesbury's Carnaby Court Development, which also includes 12 apartments, over 10,500 sq ft of offices and 7,500 sq ft of retail. Dishoom will be the largest restaurant in Carnaby and also benefits from having a private courtyard to the rear.
Shotgun – with the Lockhart's Brad McDonald at the helm – will launch at 26 Kingly Street in a 1,880 sq ft unit, with a focus on low and slow barbecue cooking and a cocktail list put together by Matt Whiley (aka The Talented Mr Fox and best known for the Peg + Patriot).
The two restaurants enhance a strong lineup on Kingly Street, from the recently opened Korean-American concept, Jinjuu to the established oyster bar and seafood restaurant Wright Brothers Soho and Pizza Pilgrims wood-fired pizzeria and friggitoria.
Carnaby has become the dining destination of choice for the West End and is renowned for its exceptional mix of over 45 independent restaurants, new dining concepts and cafes, with Kingly Court and Kingly Street being the food hubs within the area.
Emma Flather a Chartered Surveyor at Davis Coffer Lyons said: "Carnaby is now firmly established as one of the West End's top dining destinations and Shotgun and Dishoom perfectly complement the existing line up which we have worked closely with Shaftesbury to curate. We continue to evolve Kingly Court with two new exciting entrants to be announced shortly."