Restaurants toil in summer heat, while pubs make hay
August 20, 2018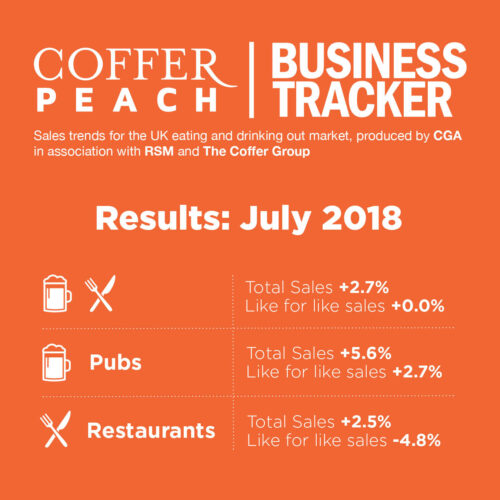 July's heatwave was good news for Britain's pubs – but heaped more pressure on the country's restaurant chains, latest figures from the Coffer Peach Business Tracker show. Managed pub and bar groups saw collective like-for-like sales rise 2.7% against last July, while sales across restaurant groups plummeted, down a substantial 4.8% in like-for-like trading,
Overall, the differing fortunes of pub and restaurant businesses cancelled each other out, with the combined managed pub, bar and restaurant sector seeing like-for-likes flat in July, recording exactly 0% growth.
"Continued sunshine and England's longer than expected participation in the World Cup meant July followed a similar pattern to the previous month of June, when pubs were up 2.8%, except that restaurants were hit even harder. The fall of 1.8% in trading in June just got worse in July," said Peter Martin, vice president of CGA, the business insight consultancy that produces the Tracker, in partnership with Coffer Group and RSM.
"Drink-led pubs and bars performed by far the strongest with like-for-likes up more than restaurants were down. Food-led pubs also suffered in the sun with negative like-for-likes, although not as dramatically as the restaurant operators," said Martin. "It seems people just wanted to go out for a drink. Across managed pubs and bars drink sales were up 6.6% for the month, with food down -3.0%."
Paul Newman, head of leisure and hospitality at RSM said, "These results continue the trend we've seen since the end of April. Weather and the impact of major social or sporting events remain the biggest factors when it comes to sales in the out-of-home market. It comes as no surprise that restaurant groups continue to struggle, albeit a sales drop of 4.8% year-on-year will be particularly painful on top of ongoing cost pressures. The long hot summer could not have come at a worse time for food-led operators and time will tell whether the more moderate temperatures we've experienced in August will provide some much-needed respite."
Underlying like-for-like growth for the 47 companies in the Tracker cohort, which represents both large and small groups, was running at 0.5% for the 12 months to the end of June, down slightly from the 0.7% at the end of June.
Trevor Watson, Executive Director at Davis Coffer Lyons said, "London had a particularly strong month with overall like-for-like sales up 2.6%. This was driven predominantly by the capital's pubs market – buoyed by England's unexpected progression at the World Cup – which were trading 6.1% ahead. The rest of the country had a more difficult period with like-for-like sales down 0.9%. Restaurant trading fell a painful 5.6%─compared with 2.8% down in the capital─with pub like-for-likes up just 1.7% despite the football."
Total sales growth across the pub and restaurant cohort, which includes the effect of new openings, was 2.7% in July, reflecting the slow down in brand roll-outs, and running at 3.6% for the 12 months to the end of the month.
The Coffer Peach Tracker industry sales monitor for the UK pub, bar and restaurant sector collects and analyses performance data from 47 operating groups, with a combined turnover of over £9bn, and is the established industry benchmark.
Participating companies receive a fuller detailed breakdown of monthly trading. To join the cohort contact Jake Dolby, jake.dolby@cga.co.uk.
About Coffer Peach Business Tracker
CGA Peach collects sales figures directly 47 leading companies. Participants include Mitchells & Butlers (owner of Harvester, Toby, Miller & Carter, All Bar One etc), Pizza Hut, Whitbread (Beefeater, Brewers Fayre, Table Table), Pizza Express, The Restaurant Group (Frankie & Bennys, Chiquitos, Brunning & Price), Spirit Group (Chef & Brewer, Flaming Grill, Fayre & Square), Casual Dining Group (Café Rouge, Bella Italia, Las Iguanas), Stonegate (Slug & Lettuce, Yates', Walkabout), Deltic, TGI Fridays, Marston's, Azzurri Restaurants (Zizzi, ASK), Wagamama, YO! Sushi, Prezzo, Novus (Tiger Tiger), Fuller's, Carluccio's, Young's, Living Ventures, The Alchemist, Gusto, Strada, Amber Taverns, Hall & Woodhouse, Gaucho, Giraffe, Loungers, Byron, New World Trading Co, Peach Pub Co, Le Bistrot Pierre, Laine Pub Co, All Star Lanes, Le Pain Quotidien, Fazenda, Liberation Group, Wadworth, Honest Burgers, The Snug Bar, Downing LLP (investment partner of Antic London), Bermondsey Pub Company, Revolution Bars Group, Polpo, McMullen & Sons, Coaching Inns Group, Rileys Sports Bars.
Coffer Peach Business Tracker is powered by Demographix