Salt Yard Group to open new restaurant concept in St James's Market
April 22, 2016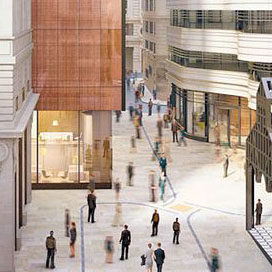 One of London's leading restaurant groups, Salt Yard Group, is set to open a new restaurant concept in The Crown Estate and Oxford Properties' £400m St James's Market redevelopment later this year.
Salt Yard Group has over a decade's experience of successfully opening restaurants in London's West End, each with their own inimitable style, offering a unique brand of quality at all levels.  This new restaurant concept will build upon the Group's established reputation as specialists in Italian and Spanish inspired restaurants.
Salt Yard Group is the second restaurant operator to be confirmed for St James's Market, after the Nordic 'Aquavit London', an informal and contemporary version of the two Michelin starred New York restaurant.
St James's Market is creating 210,000 sq ft of new, modern office accommodation, five flagship stores for best in class lifestyle and fashion brands and seven new restaurants all set within over half an acre of revitalised public spaces, including a new public square.
Anthea Harries, on behalf of the St James's Partnership, said: "We're delighted Salt Yard Group has chosen St James's Market for its next exciting concept restaurant. Attracting one of London's leading and most distinctive restaurant groups underlines the success of our vision to attract the best in international dining to this historic part of London, creating a world class destination for business, shoppers and visitors alike."
Simon Mullins, Co-Founder, Salt Yard Group, said: "We're thrilled to be part of the landmark St James's Market development that will re-establish this iconic part of London as a world-class dining, lifestyle and business destination. With its blend of cutting edge architecture, revitalised public spaces and historic surroundings it will create an exciting new destination for locals and tourists to delight in alike."
Davis Coffer Lyons and Colliers International are joint agents for The Crown Estate on the St James's Market development.