Solid first week for pub and restaurant groups as consumers toast reopening
April 27, 2021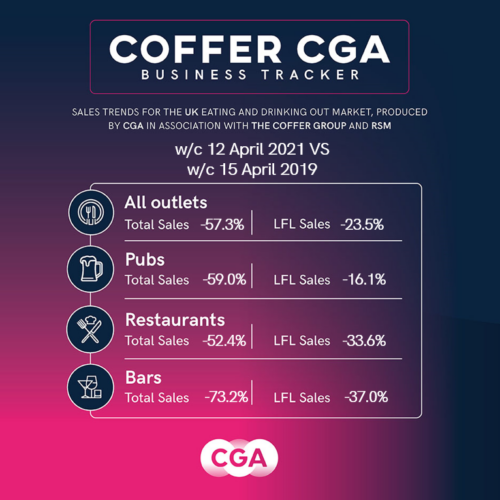 Coffer CGA Business Tracker shows like-for-like sales down less than a quarter on April 2019 despite trading restrictions
Good weather and beer gardens deliver strong week for pubs
Two in five managed sites now open for outside service
Managed pub and restaurant groups have made a robust start to post-lockdown trading in England, the latest figures from the Coffer CGA Business Tracker show.
The Tracker indicates that like-for-like sales in the week from Monday 12 to Sunday 18 April were down a modest 24% on the equivalent period two years ago—despite being limited to outside trading, and facing a strong comparative week in April 2019 that included Easter.
Pubs performed better than restaurants across the first week back, as consumers celebrated the return of hospitality in beer gardens and other outdoor spaces. Like-for-like sales in managed drink-led pubs were down by 11% year-on-year, and by 22% in pub restaurants. The group-run restaurant segment recorded a 34% drop, and like-for-like sales were weakest of all in bars, at 37% down.
With service still limited to outdoors, the managed sector remains well below capacity. The Tracker shows that around two in five (39%) of groups' venues were open for on-site dining and drinking last week, though some other venues were operating for takeaways and deliveries. Trading capacity was higher in the drink-led pubs (44%) and restaurants (43%) segments, and lower among pub restaurants (27%) and bars (25%).
With the majority of sites still closed, total sales last week were 57% down on the equivalent week in April 2019.
"While sales are well down on what we would expect in a normal April, managed groups are returning well after months of closure," said Karl Chessell, business unit director – hospitality operators and food, EMEA at CGA, the business insight consultancy that produces the Tracker in partnership with The Coffer Group and RSM. "Pubs benefited from the widespread sunshine and the eagerness of consumers to drink out again after so long at home. With the weather set fair and consumers reassured about the safety of outdoor hospitality, we can expect the positive start to eating and drinking out to continue."
"However, it's important to remember that managed groups have so far been unable to open well over half of their pubs, restaurants and bars in England, and none at all in Scotland and Wales, and some consumers remain cautious about going out. Total sales will be far off pre-pandemic levels for some time to come, and businesses will need support from local and central government as they embark on the long road to recovery."
A total of 47 companies provided data to the latest edition of the Coffer CGA Business Tracker.
Participating companies receive a fuller detailed breakdown of monthly trading. To join the cohort, contact Andrew Dean: andrew.dean@cga.co.uk
About Coffer CGA Business Tracker
CGA collected sales figures directly from 47 out of the 60 leading companies participating; Amber Taverns, Azzurri Group (Ask Italian, Zizzi), Banana Tree Restaurants, Beds and Bars Ltd, Big Table Group (Bella Italia, Las Iguanas), BrewDog plc, Byron, Dominion Hospitality, Drake & Morgan, Fuller Smith & Turner, Gaucho Grill, Giggling Squid, Giraffe Restaurants, Greene King (Chef & Brewer, Hungry Horse, Flaming Grill), Gusto, Hall & Woodhouse, Hawthorn Leisure, Honest Burgers, Laine Pub Co, Le Bistrot Pierre, Liberation Group, Loungers, Marston's, McMullen & Sons Ltd, Mitchells & Butlers (Harvester, Toby, Miller & Carter, All Bar One), Mowgli, Nando's Restaurants, New World Trading Co, Oakman Inns, Peach Pubs, Pizza Express, Pizza Hut UK, Prezzo, Punch Pub Co, Rekom UK, Revolution Bars, Rosa's Thai, Star Pubs & Bars, Stonegate Pub Co (Slug & Lettuce, Yates', Walkabout, Bermondsey Pub Company), TGI Fridays UK, The Alchemist, The Restaurant Group (Frankie & Bennys, Chiquitos, Brunning & Price), Upham Pub Company, Various Eateries (Strada, Coppa Club), Wagamama, Whitbread (Beefeater, Brewers Fayre, Table Table), YO! Sushi and Youngs.
About CGA:
CGA is the definitive On Premise measurement, insight and research consultancy that empowers the world's most successful food and drink brands. With more than 30 years' experience and best-in-class research, data and analytics, CGA is uniquely positioned to help On Premise businesses develop winning strategies for growth.
CGA works with food and beverage suppliers, consumer brand owners, wholesalers, government entities and pub, bar and restaurant retailers to protect and shape the future of the On Premise experience. Its mission is to use phenomenal data and expert insights to give brands a competitive edge and ensure the market we love is the most vibrant possible.
To learn more, visit: www.cgastrategy.com