The London Agency Takes Former Ruski's Tavern
October 27, 2015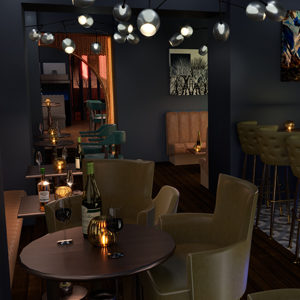 The former Ruski's Tavern on Kensington High Street is to reopen as a new gourmet dining and cocktail operation Beyond London after Davis Coffer Lyons secured a deal on behalf of the existing leaseholder Kyri Stylianou.
Beyond London will be Kensington's first lounge to offer gourmet dining and expertly crafted cocktails. Renowned chef Ian Pengelley has created a menu of Pan-Asian small and large plates that utilise a mix of textures and smells to tantalise diner's senses and challenge conventional cooking. Key dishes include Seabass and Gold Flake Steamed Dumplings, Mixed Bubbling and Smoking Sashimi and Green Tea Chocolate Fondant. The small-plates will be complemented by a menu of bespoke cocktails, which have been expertly created by leading mixologist Andy Mil.
The London Agency – the creative team behind Beyond London – is a specialist in consumer-focused hospitality activities to brand management and contracted services as well as being behind some of London's best night-clubs and restaurants.
Stylianou sold the site in order to concentrate on other aspects of his business, primarily acquiring sites for development and licensing as well as expansion into other venues.
Jonathan Moradoff, Director at Davis Coffer Lyons said: "This was a highly desirable site which benefits from a 3am license. Beyond London is an excellent operation, which appeals perfectly to the area's affluent catchment and discerning visitors – I have no doubt that it will be an exciting addition to the areas vibrant dining and drinking scene."