Tonkotsu to open premium restaurant 'Anzu' in St James's Market culinary hub
May 5, 2016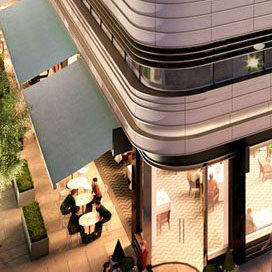 London's leading ramen noodle restaurant group, Tonkotsu, will open its new premium restaurant, Anzu, offering contemporary Japanese dishes in The Crown Estate and Oxford Properties' £400m St James's Market redevelopment later this year.
Building on Tonkotsu's heritage of accessible authenticity, Anzu will use fresh, seasonal and sustainably sourced ingredients to create traditional teishoku (pre-set) lunch and à la carte menus served alongside a select range of wines, sake, Japanese beers, whiskies and cocktails.
Anzu is inspired by the Japanese brasserie – offering high quality dishes and amazing service in fine but relaxed surroundings for all day dining. This is reflected in the sleek yet comfortable interior by Blenheim Design, using Japanese wood and stone; a nod to contemporary Tokyo interior design.
It will occupy a site of over 2,000 sq ft at 1 Norris Street on the southern side of St James's Market. Norris Street will be pedestrianised as part of the creation of a distinctive new half-acre of public space between Haymarket and Regent Street St James.
Anzu is the fourth restaurant confirmed for this exciting new culinary destination, including the internationally-acclaimed Nordic 'Aquavit London' and the leading London restaurant group, Salt Yard.
St James's Market is creating seven new restaurants in total, alongside 210,000 sq ft of new, modern office accommodation and five flagship stores for best in class lifestyle and fashion brands.
St James's Market builds upon The Crown Estate's wider £500m investment strategy in its St James's portfolio, totalling around 50% of the real estate in the area, which includes attracting the best in international cuisine, such as Milos, Chutney Mary, Cicchetti and Café Murano.
Anthea Harries, on behalf of the St James's Partnership, said: "Tonkotsu has established a reputation for outstanding Japanese cuisine across London and we're thrilled they will be bringing their new concept for premium dining in a relaxed environment to St James's Market."
Emma Reynolds of Anzu said: "St James's Market offers the perfect blend of sleek and contemporary design in beautiful historic surroundings which makes it the perfect home for the food and atmosphere of Anzu. The restaurant will offer loyal devotees of Tonkotsu a familiar yet new and exciting experience, while the uninitiated will be introduced to contemporary Tokyo-style dining in this iconic part of London."
Davis Coffer Lyons and Colliers International are joint leisure agents for The Crown Estate.