We Wish You a Tech-y Christmas; Covent Garden is World's First Augmented Reality Shopping Destination
December 12, 2016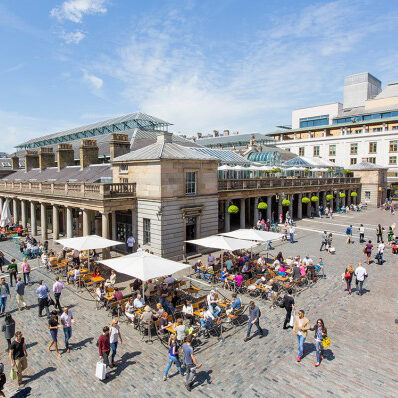 We have been watching technological developments in the world of retail and F&B with interest; from the introduction of beacons to engage shoppers on their smartphones both in-store and on the street, to online ordering innovations.
As hordes of Pokemon hunters caused spikes in footfall and in some cases, spend, back in August, we opined that there was potentially considerable scope for landlords and operators alike to benefit from technological innovation in the form of Augmented Reality (AR) – the blurring of boundaries between the digital and physical world.
This is perfectly exemplified as Covent Garden launches as the world's first augmented reality shopping destination for Christmas, with 140 shops and restaurants taking part across an estate covering one million sq ft.  Whilst some retailers internationally have benefitted from harnessing AR both in store and online, activation on this scale is unprecedented.
Covent Garden's AR Christmas offers consumers an immersive experience, from a virtual treasure hunt to bringing a digital reindeer to life, and unlocks exclusive offers from shops and restaurants across the district.  It has been created by Blippar technology and in partnership with Hearst Magazines, bringing an additional dimension of exclusive gifting recommendations from Esquire, Elle and Cosmopolitan via the app.
As we evolve toward an experience economy, the power of AR – and its sister technology virtual reality (VR) should not be underestimated; such technological innovations aren't just enhancing engagement and experience– by way of immersive "adventures" – but offer convenience too, with the ability to "try on" clothes and jewellery virtually, see how furniture will look in a home prior to ordering – they have the potential to transform the way in which people shop.  There is considerable investment in the sector, with AR and VR start-ups raising comfortably in excess of £500m in equity financing last year.
As for F&B, the implications are equally exciting; Just Eat recently showcased technology including the Hololens, allowing us to imagine a world where traditional menus become a thing of the past, enabling
customers to see a restaurant menu as a buffet for them to pick and choose from, as well as integrating artificial intelligence to improve the ordering experience and increasing delivery capacity by way of self driving delivery robots.  Elsewhere the New Scientist reports on eye-opening experiments with virtual food, using electronics to emulate tastes and textures and introducing sensory input to VR technology to augment the physical dining experience.  A "digital lollipop" capable of creating different taste sensations has been invented.
Covent Garden's AR Christmas is ushering in an exciting new future and perhaps one which all restaurateurs, retailers and even landlords will ultimately need to engage with.  Certainly, with tech-savvy, constantly connected" millennials driving the growth of the eating out market – about half of the nation's adult eating out occasions can be attributed to those aged 18 to 34, according to the latest research from CGA Peach – embracing technology is essential.  We believe we are likely to see more landlord collaborations with technology specialists; Westfield Corporation's digital innovation subsidiary Westfield Labs has already gone one further this year launching the Connected Commerce Accelerator, which seeks to advance the retail industry in the digital age by engaging growth-stage and early-stage tech start-ups.
Digital innovation will surely remain high on the agenda for 2017.