Rolling 12-month sales down 15%, but managed pubs, bars and restaurants show resilience with 5% growth in August
September 13, 2021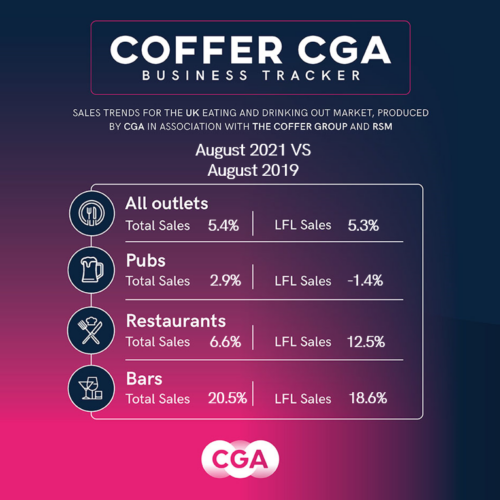 Strong month for bars and restaurants as consumer confidence builds
Sales buoyant beyond the M25 but slower to recover in London
Mounting consumer confidence and staycations helped Britain's leading managed pub, bar and restaurant groups to lift sales above pre-COVID-19 levels in August, the new edition of the Coffer CGA Business Tracker reveals.
The Tracker, produced by CGA in partnership with The Coffer Group and RSM, shows total sales were 5% ahead of August 2019. It is the first month of year-on-year growth since hospitality reopened from mid-April. Total sales were also 35% up on August 2020, when the majority of venues were open after Britain's first lockdown and the government's 'Eat Out to Help Out' initiative was running.
For the fourth month in a row, managed restaurant groups outperformed the market, with total sales up by 7% on August 2019. Pubs recorded 3% growth, with pub restaurants (up 6%) faring better than drink-led sites (up 1%). Bars enjoyed an impressive surge in sales following the easing of restrictions on the late-night sector, finishing August 21% up on 2019.
Businesses benefited from a first full month of restriction-free trading in August, as well as the easing of safety concerns among diners and drinkers. Widespread 'staycations' during the school holidays contributed to a strong August for regions beyond London, with sales outside the M25 up by 9%. London continued to be impacted by the absence of many office workers and tourists, and sales within the M25 were down by 7% on August 2019.
On a longer 12-month measure, COVID continues to take a toll on groups' trading. The Tracker shows rolling 12-month sales to the end of August 2021 were down by 15% on the 12 months to August 2020—a period which included the UK's first national lockdown.
Karl Chessell, director – hospitality operators and food, EMEA at CGA, said: "August was another impressive month of recovery for managed groups from the havoc wreaked by COVID-19. It is a particularly impressive performance given the severe operational pressures that many businesses are working under, including staff shortages, supply problems and rising costs. Sales growth is testament to the resilience and adaptability of the hospitality industry and consumers' ongoing enthusiasm for restaurants, pubs and bars. While trading conditions remain some way off pre-COVID-19 norms, August will hopefully act as a springboard for a strong final four months of 2021 for the sector."
David Coffer, chairman at Coffer Corporate Leisure, said: "August figures show welcome progress in public support.  However, we should be wary of the major challenges which lay ahead; shortage of food and drink and labour, the end of furlough and the statutory demands for repayment of loans, rates, VAT and now higher NIC.  There is also the threat of further lockdown and Covid controls as well the spectre of the end of the rental moratorium. The next few months will prove the depth of these challenges, but the undoubted ability of the sector to cope as ever."
Paul Newman, head of leisure and hospitality at RSM, said: "Like for like sales growth of 5 per cent across the sector is a fantastic result and testament to all the hard work that has gone in to making venues safe and secure over the summer months. With many operators carrying huge debt burdens, an opportunity to replenish depleted cash reserves will be a huge relief and hopefully the start of a more sustained recovery. The timing of this week's announcement to increase national insurance to help fund health and social care is another financial blow to businesses who are facing the end of the furlough scheme later this month and an increase in the headline rate of VAT from 5 per cent to 12.5 per cent. The resilience of the sector will be put to the test once more but if the experience of the last 18 months is anything to go by, this will be another hurdle that most operators will take in their stride."
A total of 57 companies provided data to the latest edition of the Coffer CGA Business Tracker.
Participating companies receive a fuller detailed breakdown of monthly trading. To join the cohort, contact Andrew Dean at andrew.dean@cgastrategy.com.
About the Coffer CGA Business Tracker
CGA collected sales figures directly from 57 out of the 61 leading companies participating in the Coffer CGA Business Tracker. Participants include: All Star Lanes, Amber Taverns, Anglian Country Inns, Azzurri Group (Ask Italian, Zizzi), Banana Tree Restaurants, Beds and Bars, Big Table Group (Bella Italia, Las Iguanas), Boparan Restaurant Group (Carluccio's, Gourmet Burger Kitchen), Bill's Restaurants, BrewDog, Buzzworks Holdings Group, Byron, Coaching Inn Group, Cote Restaurants, Dominion Hospitality, Drake & Morgan, Fuller Smith & Turner, Gaucho Grill, Giggling Squid, Greene King (Chef & Brewer, Hungry Horse, Flaming Grill), Gusto Restaurants, Hall & Woodhouse, Hawthorn Leisure, Honest Burgers, Laine Pub Co, Le Bistrot Pierre, Liberation, Loungers, Marston's, McMullen & Sons Ltd, Mitchells & Butlers (Harvester, Toby, Miller & Carter, All Bar One), Mowgli, Nando's Restaurants, New World Trading Co, Oakman Inns, Peach Pubs, Pizza Express, Pizza Hut UK, Prezzo, Punch Pub Co, Rekom UK, Restaurant Group (Frankie & Bennys, Chiquitos, Brunning & Price), Revolution Bars, Riley's, Rosa's Thai, Snug Bar, Southern Wind Group (Fazenda),  St Austell, Star Pubs & Bars, State of Play Hospitality, Stonegate Pub Co (Slug & Lettuce, Yates', Walkabout, Bermondsey Pub Company), Tattu Manchester, TGI Fridays UK, The Alchemist, True North Brew Co, Upham Pub Co, Various Eateries (Strada, Coppa Club), Wagamama, Whitbread (Beefeater, Brewers Fayre, Table Table), YO! Sushi and Youngs.
About CGA:
CGA is the definitive On Premise measurement, insight and research consultancy that empowers the world's most successful food and drink brands. With more than 30 years' experience and best-in-class research, data and analytics, CGA is uniquely positioned to help On Premise businesses develop winning strategies for growth.
CGA works with food and beverage suppliers, consumer brand owners, wholesalers, government entities and pub, bar and restaurant retailers to protect and shape the future of the On Premise experience. Its mission is to use phenomenal data and expert insights to give brands a competitive edge and ensure the market we love is the most vibrant possible.
To learn more, visit: www.cgastrategy.com