King re-launches Simpsons in the Strand
October 11, 2023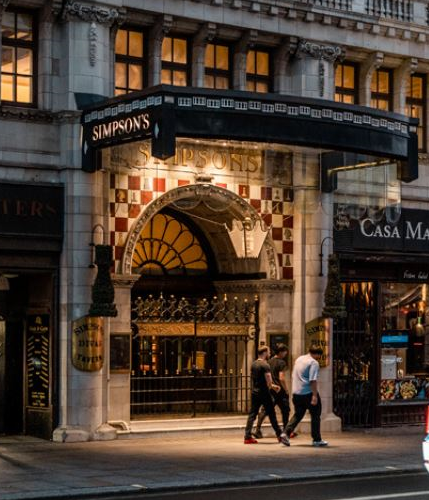 The Savoy has announced that renowned restaurateur Jeremy King will re-launch legendary restaurant Simpsons in the Strand next year.
One of London's oldest restaurants, the 20,000 sq ft venue dates back to 1828. Renowned for championing traditional British fare, it was one of the first restaurants in the UK to win a Michelin star in 1974.  DCL were charged by the owners of The Savoy to source a suitable operator to take the historic site into the future, and we couldn't be happier to see it in such accomplished and highly regarded hands.
"It is now well over forty years since I fell in love with Simpson's in the Strand and over twenty years since I first became excited at the prospect of being able to work with The Savoy and take over its helm," said Jeremy King. "Simpson's is the last of the 'Grande Dame' restaurants that still retains its original décor and features, and the prospect of restoring it to its former glory is the apotheosis of my career. The history of this magnificent institution will be cherished as we bring it fully into the 21st Century."
Commenting on the announcement, Franck Arnold, managing director of The Savoy said, "Reopening Simpson's in the Strand will be a truly momentous occasion for The Savoy and we couldn't be more delighted to be in partnership with Jeremy King. We know he will successfully breathe new life and vigour into this almost 200-year old prized London institution and we can't wait to welcome guests back through its storied doors."
Tracey Mills of DCL said, "This much-loved, historic space – which over the years has counted Prime Ministers and authors such as Charles Dickens amongst its customers – generated much excitement and keen interest, but Jeremy sprinkling his inimitable magic across it will no doubt prove to be a match made in heaven."
The news follows the recent announcement that Jeremy will return to re-launch the restaurant at which he began his career – Le Caprice in St James.
Supported by former Le Caprice maître d' Jesus Adorno and chef, Will Halsall, King plans to open the restaurant under the new name of Arlington in February 2024.
King wrote to his followers: "I am delighted to tell you that I have just signed a lease for the site and the legendary Jesus Adorno will be joining me as we aim to recreate a restaurant that for many of our customers, over the years, was the one they professed their greatest love for."
Though originally opened in 1947, when taken over by King and business partner Chris Corbin in 1981, the restaurant took on a new lease of life, eventually becoming one of London's most in-demand dining rooms with a stellar clientele including Princess Diana, Madonna and Sir Peter Blake.
Richard Caring later acquired it in 2005 and is expected to retain the right to the name, which it is thought he has plans for elsewhere.
Rob Meadows of DCL acted on behalf of Jeremy King, securing this historic site off market.