Chantelle Nicholson to Launch Apricity on Mayfair's Duke Street
December 16, 2021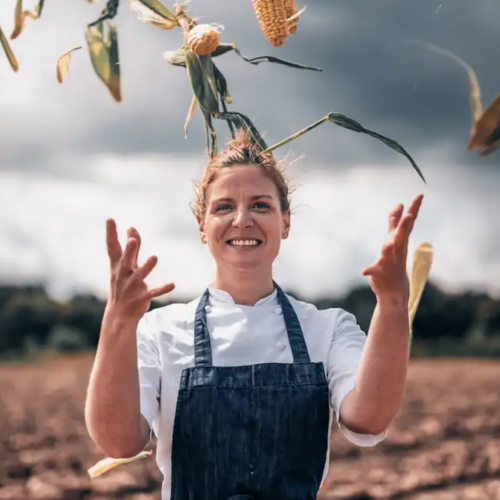 Award-winning chef Chantelle Nicholson is to launch a new "planet friendly", zero waste restaurant on Mayfair's Duke Street in 2022.  Apricity – which means the warmth of the sun in winter– will launch at 68 Duke Street in March with a "hyper seasonal" menu, using ingredients from local suppliers, foragers and small farms.  An extensive list of low intervention wines from English vineyards and wineries will be available alongside a selection of innovative zero-waste cocktails.
Chantelle's focus on sustainability and seasonality earned her former Tredwell's restaurant a green Michelin star in 2021, and was showcased at her pandemic pop-up, All's Well.  Her vegetable-centric focus on cooking led her to write cookbook Planted.  Landlord, Grosvenor, have been working closely with Chantelle to ensure the restaurant is fit out in a sustainable way by reusing materials, minimising waste and designing to accommodate future changes.
Chantelle commented: "Apricity is such an exciting opportunity for myself and my team. Creating a space that can serve delicious food and great drinks, with joy and purpose, is key to us.  We can't wait to hero the amazing growers and farmers within the UK, as well as partnering with other organisations that have an aligned ethos and culture. I am delighted to be working with Grosvenor Estates to create a greener, healthier and more conscious community within the heart of Mayfair, and beyond."
Duke Street will see more high profile openings this year, with the launch of The Barley Mow pub by Cubitt House, which has recently added Ben Tish to its executive team, as chef director, as well as Lucky Onion group founders and Country Creatures owners Sam and Georgie Pearman.  A new restaurant will open next door, on the corner of Brown Hart Gardens, which recently welcomed Stripes to its terrace, combining fashion, food and art.
DCL is proud to advise Grosvenor on F&B in Mayfair.