DCL is Most Active Leisure Advisor for 10th consecutive year
March 3, 2021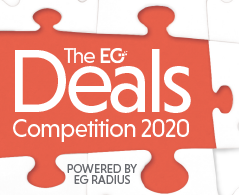 Davis Coffer Lyons has been crowned most active leisure active agent in London in the prestigious Estates Gazette Deals Competition 2020 – for the 10th year in a row.
Despite the challenging climate over the year, DCL has worked creatively and tirelessly to assist clients, resulting in the firm topping the chart for highest transaction volume for the Leisure & Hotel sector.
For almost 50 years, DCL has demonstrated it is best-in-class for leisure property advice, but has only been able to do so thanks to the tremendous support of our clients and contacts.
David Coffer, chairman of the Coffer Group said: "We are proud to have been able to help our clients through the most difficult of period for the hospitality sector during the pandemic and, with the dark clouds hopefully starting to clear, we are excited about the many opportunities we are focussed on to assist with our clients recovery and growth for the coming years.
"The year 2022 will be our 50th anniversary and we hope to celebrate with all our clients, staff, colleagues and friends."