Fitzrovia to Welcome Lisboeta by Nuno Mendes and MJMK, and Ugly Dumpling in 2022
December 16, 2021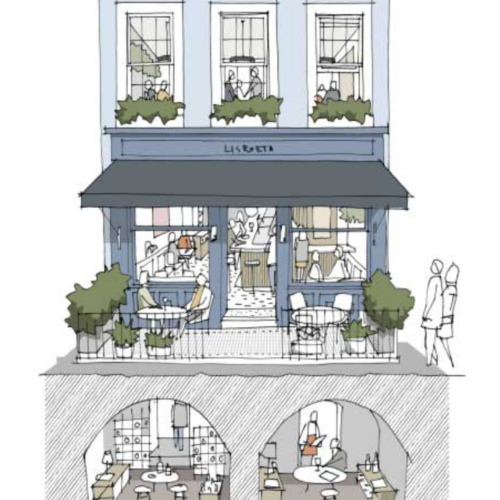 Charlotte Street is due to welcome an exciting new addition in Spring 2022, with the launch of Lisboeta by Nuno Mendes.
The acclaimed chef is opening a Portuguese restaurant at 30 Charlotte Street in partnership with MJMK, a fast growing force on the London restaurant scene, behind Casa do Frango and Kol.  Lisboeta promises to bring "the very spirit of Lisbon" to Fitzrovia, with Mendes commenting that the restaurant will showcase "the young, vibrant food culture, produce, wine, and gastronomic heritage of my home".
The three floor site, previously home to the iconic L'Etoile, will feature counter dining on the ground floor, an elegant first floor dining room and dynamic and immersive kitchen-dining in The Adega below.  In the last few months Charlotte Street has welcomed a host of new operators, including Carousel, Mowgli and Where The Pancakes Are, swelling the ranks of an enviable line up that includes acclaimed establishments such as Norma, Pied a Terre, Kitchen Table and the Charlotte Street Hotel.
Close by on Rathbone Place, global fusion dumpling concept Ugly Dumpling is launching its second site in early 2022.
Ugly Dumpling fuses Western ingredients and Asian home recipes to create decadent dumplings with global flavours, with a menu that straddles classics – with traditional fillings – and "new favourites" like mushroom & truffle and cheeseburger.  For their launch month of January, an exclusive vegan cheeseburger dumpling will be on offer in Fitzrovia for Veganuary.
The new site at 30 Rathbone Place is larger than the Carnaby original, and will include a private room for 8.
DCL acted on behalf on landlord Shaftesbury on both sites.  For more Fitzrovia opportunities please contact Kate Taylor.