Nice to meat you: Japanese BBQ concept High Yaki debuts at Chinatown London
December 13, 2022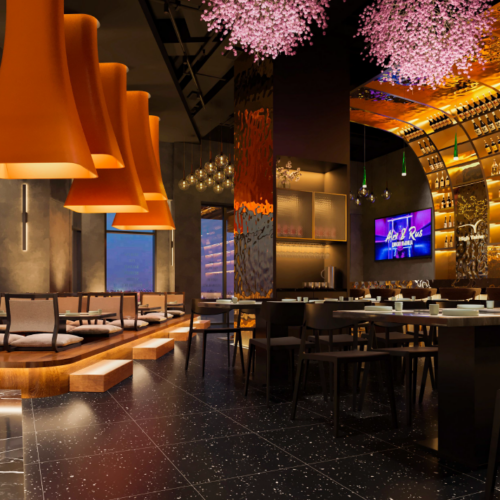 Shaftesbury has announced that Japanese barbecue restaurant High Yaki will shortly be launching the concept's debut location in Chinatown London.
Specialising in yakitori, yakiniku, and dry-aged wagyu, High Yaki will be bringing its "staircase barbecue" – the name given to the presentation of the ready-to-grill food – to Chinatown London early next year. The 3,600 sq ft, 150 cover restaurant at 10 Newport Place will also have a mezzanine level for private dining.
The brand is inspired by traditional Japanese cuisine with a western twist, combining exotic flavours with showstopping presentation. The menu focuses on a variety of meat and fish ready for the grill, including an array of beef cuts, offal, and fresh seafood, which diners can cook on their own grill in the middle of the table. High Yaki has been brought to the UK by the owners of Skewer & Beer and Shu Xiangge Hot Pot, the latter a Chinatown London favourite.
Leo Lu, Director, High Yaki, commented: "Launching a debut High Yaki is an exciting project, and there's no better place to bring the concept than Chinatown London. The energetic day-to-night community, of both Eastern and Western audiences, is ideal for what we offer, and we can't wait to open our doors in the coming weeks."
Julia Wilkinson, Restaurant Director at Shaftesbury, added: "High Yaki brings an exciting take on Japanese barbecue to Chinatown London, adding an increasingly popular ESEA concept to the lively Newport Place. It's a mark of success for a destination when it is able to support growth from within, so naturally we were delighted to work with the team behind Shu Xiangge Hot Pot for this new concept. The signing reinforces the appeal of Chinatown London for ESEA operators, as a place with an unrivalled tenant mix that represents the best of the region's food culture."
This announcement follows the opening of Kung Fu Noodle, the third concept in Chinatown London for restaurateur Alex Xu. The destination is also set to welcome Pochawa Grill in the coming weeks, a debut casual Korean barbecue concept.
DCL and Shelley Sandzer acted on behalf of Shaftesbury on the Newport Place letting.