Pub and restaurant groups deliver flat October trading
November 19, 2018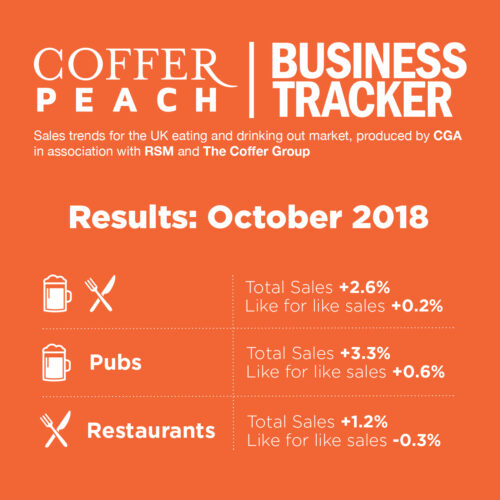 Britain's managed pub and restaurant groups saw collective like-for-like sales grow just 0.2% in October, according to latest figures from the Coffer Peach Business Tracker – with pubs and bars doing better than casual dining chains.
"People are still going out to eat and drink, but there is little or no growth in the market – and stronger London trading is making up for poorer sales outside the M25," said Phil Tate, chief executive of CGA, the business insight consultancy that produces the Tracker, in partnership with The Coffer Group and RSM.
Regionally, London saw like-for-likes grow a relatively healthy 2.5%, against a 0.5% like-for-like sales fall outside the capital. Pub and bar groups were the top performers both nationally and in London.
Across the country, managed pubs and bars were collectively ahead 0.6% on a like-for-like basis, and up 3.6% in London against last October. However, sales declined by 0.4% outside the capital.
Restaurant chains also did relatively better in London, with like-for-likes up 0.9% compared to a 0.7% fall in the rest of the country. However, the national figure showed a 0.3% decline, reflecting the continuing pressure on the casual dining sector.
"Restaurants saw volume sales, measured by covers, down 1.4% for the month – which is worrying, although spend has remained essentially static. But the really big problem for the sector, and restaurant brands in particular, is continuing fierce competition, added to the burden of increasing business costs that are squeezing both margins and profits," added Tate.
Total sales, which include the effect of new openings since this time last year across the 49 companies in the Tracker, were up by 2.6% on October 2017.
Underlying like-for-like growth for the Tracker cohort, which represents both large and small groups, was running at 0.7% for the 12 months to the end of October. The figure is virtually the same as at the end of the last three months, showing that the eating and drinking out market remains at best flat.
"These figures show the challenges faced by the industry," said Trevor Watson, executive director, valuations at Davis Coffer Lyons. "But just because some weaker brands have closed some branches outside London is not leading to a reduction in capacity – these units are re-opening with better operators and concepts paying sustainable rents.
He added: "Competition is stronger than ever. The pub market remains more resilient because it does not have the same over-capacity issue. The ongoing relative strength of London is borne out by our own views of the London restaurant property market, which remains active."
Paul Newman, head of leisure and hospitality at RSM, said: "Against a backdrop of reduced spending on the high street, these figures show that consumers continue to favour the eating and drinking out sector when allocating household budgets. Wet sales have fuelled the growth for pubs, while casual dining operators continue to feel the pressure. Despite concerns that younger generations are avoiding alcohol in favour of wellness, drinks sales were up 1.4% against a fall of 0.5% for food sales, driving this month's better performance."
The Coffer Peach Tracker industry sales monitor for the pub, bar and restaurant sector collects and analyses performance data from 49 operating groups, with a combined turnover of over £9bn, and is the established industry benchmark.
Participating companies receive a fuller, detailed breakdown of monthly trading. To join the cohort contact Jake Dolby, jake.dolby@cga.co.uk
About Coffer Peach Business Tracker
CGA Peach collects sales figures directly 49 leading companies. Participants include Mitchells & Butlers (owner of Harvester, Toby, Miller & Carter, All Bar One etc), Pizza Hut, Whitbread (Beefeater, Brewers Fayre, Table Table), Pizza Express, The Restaurant Group (Frankie & Bennys, Chiquito, Brunning & Price), Spirit Group (Chef & Brewer, Flaming Grill, Fayre & Square), Casual Dining Group (Café Rouge, Bella Italia, Las Iguanas), Stonegate (Slug & Lettuce, Yates', Walkabout), Deltic, TGI Fridays, Marston's, Azzurri Restaurants (Zizzi, ASK), Wagamama, YO! Sushi, Prezzo, Novus (Tiger Tiger), Fuller's, Carluccio's, Young's, Living Ventures, The Alchemist, Gusto, Strada, Amber Taverns, Hall & Woodhouse, Gaucho, Giraffe, Loungers, Byron, New World Trading Co, Peach Pub Co, Le Bistrot Pierre, Laine Pub Co, All Star Lanes, Le Pain Quotidien, Fazenda, Liberation Group, Wadworth, Honest Burgers, The Snug Bar, Downing LLP (investment partner of Antic London), Bermondsey Pub Company, Revolution Bars Group, Polpo, Bill's, McMullen & Sons, Coaching Inns Group, Rileys Sports Bars and Mowgli.