Wing Wing Launches New Flagship at the Gateway to Chinatown London
March 26, 2021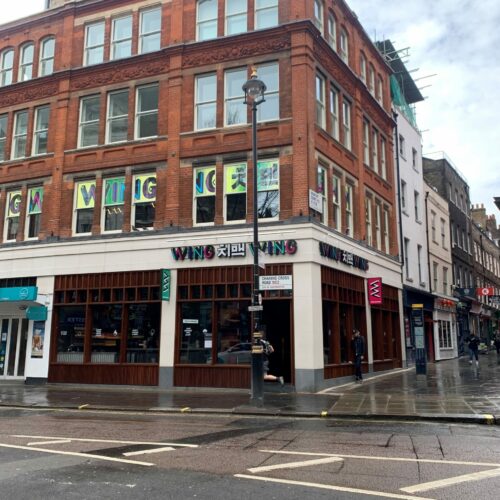 Korean crispy chicken specialist Wing Wing has opened a new flagship restaurant on Charing Cross Road, at the gateway to Chinatown London from Covent Garden.
The brand, which specialises in light, crispy chicken wings, cooked to order and individually hand-brushed with a signature glaze, has launched a 2,500 sq ft unit across 3 floors at 47-49 Charing Cross Road.  Currently open for takeaway and delivery, Wing Wing will invite customers for indoor dining – to experience 'bottoms-up' beer dispensers and KTV karaoke rooms – as soon as government guidelines allow.
The opening comes as a signing of a second site for Chinatown Bakery, which is expanding from Newport Place, is announced.  Julia Wilkinson, Restaurant Director at Shaftesbury, commented: "Chinatown London is the most authentic portrayal of Far East dining in Europe, so it is vital we continue to provide both the home comforts and new trends revered by our communities. Adding Chinatown Bakery and Wing Wing does just this – helping a much-loved brand built on tradition extend its presence at the destination, while introducing something new that reflects modern East and Southeast Asian foodie culture."
The Charing Cross Road unit is one of a trio of exciting opportunities that DCL has been advising landlord Shaftesbury on [jointly with Shelley Sandzer], with further announcements to follow.