DCL is the Most Active Leisure Agent in London for 2018
March 8, 2019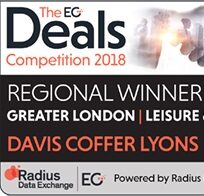 Specialist leisure property advisers Davis Coffer Lyons has been announced as EG's Most Active Leisure Agent in Greater London for 2018 for the eighth consecutive year. DCL also collected third place in the South East (excluding London) category, placing the firm fourth overall nationally.
David Coffer, Chairman at The Coffer Group, said, "This is a tremendous accolade and once again I'm extremely proud of all our dealmakers at DCL – and those who assist them – who keep us at the top of our game year in, year out. The economic and political uncertainty which has rocked UK businesses over the last 12 months has been well-documented, but it is great to see solid statistical evidence here of the fantastic results our firm continues to produce.
"DCL has seen many different markets come and go, and faced competition from many, often much bigger international agents; however, for almost 50 years now we have remained not only the leader of our field, but this award is testimony that it's the quality of our talent which gives us DCL its superior standing.
"At this special time, and in honour of International Women's Day, I am proud to lead one of the few property advisers which maintains a workforce of at least 50% women, remunerated on equal footing and who make a more than equal contribution to our business."
The Coffer Group has also recently been shortlisted as finalists for Property Week's Property Awards as Leisure Agency Team of the Year and Niche Agency Team of the Year.