Munich Cricket Club Confirms Two New Sites including new Victoria Flagship
July 2, 2019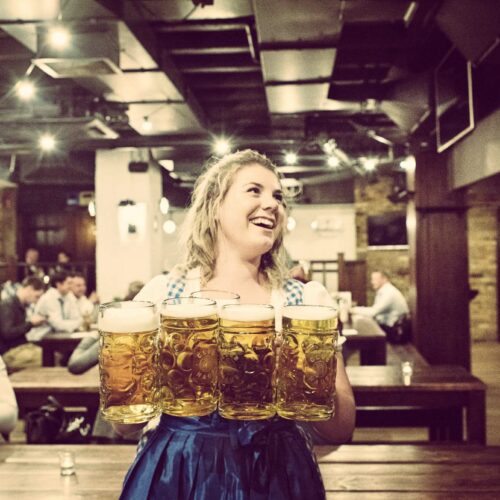 Moonshine Bars has today confirmed that it will open two new London sites for its Bavarian concept, Munich Cricket Club, starting with a new flagship in Victoria due to open on Thursday 4 July 2019.
Led by father and son team, Tom and Robbie Gill of Moonshine Bars – it opened its debut 350-cover Munich Cricket Club in Victoria in April 2016.
The new site occupies a former Pitcher and Piano site at 25 Victoria Street, the Bavarian Bierkeller will replace its current short-term lease further along the same street – with new premises to allow for a larger, more exciting offer.
As before, there will be nine Munich Biers on draught, authentic German fare and Oompah music Thursdays and Saturdays.
Moonshine Bars – which operates The Rose gastro-pub in Chelsea and The Loose Box Bar & Kitchen in Westminster – is also set to open a further site for its German bierkeller concept in Canary Wharf at the former La Tasca.
This listed building, a former warehouse has outstanding space on the ground floor and basement as well as a very large terrace overlooking the dock and fronting the main offices at Canary Wharf.
The unit will feature a traditional Munich Bierhall and a large ski chalet inside and a Munich Biergarten outside.
Paul Tallentyre, Executive Director, Davis Coffer Lyons, said, "Munich Cricket Club has become an immensely popular venue due to its extensive German beers and exuberant atmosphere and weekly Oompah Bands. Tom & Robbie are extremely talented operators, and these are two great opportunities for them to continue growing the business."
Drink-focused pubs are leading the charge in terms of sales in hospitality market and there have been strong wet-led sales in 2019 according to the Coffer Peach Business Tracker data, which showed food like-for-like sales in pubs were up a modest 0.8% while drink like-for-likes jumped almost 3% in April 2019.
"We have seen great resilience across pub trading despite low consumer confidence, showing pubs to be a relatively "safe haven" for UK investors in an adverse Brexit situation. Fundamentally pubs are fairly defensive in uncertain times", said Tallentyre.