1Rebel to Occupy Retail & Leisure Space at The Post Building
May 13, 2019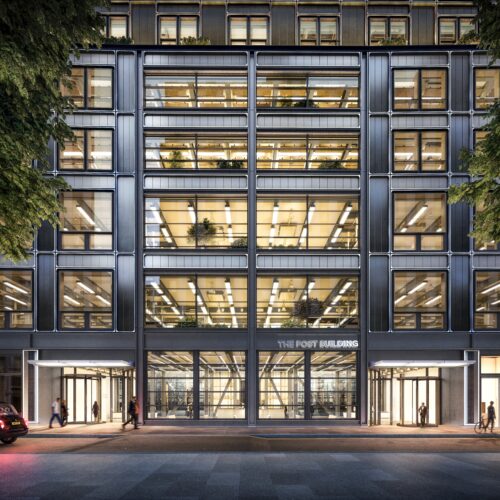 The Post Building, a joint venture between Oxford Properties Group and Brockton Capital, has secured its first retail and leisure occupier – the industry defining boutique fitness brand 1Rebel.
1Rebel will take almost 9,000 sq ft on the ground and mezzanine floors, creating a showcase fitness club and retail space that takes full advantage of the double-height space offered by The Post Building's industrial heritage.
Created by Giles Dean and James Balfour, the son of Fitness First founder Mike Balfour, 1Rebel, dubbed "King of Gyms", offers a no contract approach based around three high intensity fitness concepts – Reshape, Ride and Rumble – for 'people who hate gyms'.
1Rebel will bring its Reshape concept to The Post Building, to become its largest Reshape studio in London and its first West End club.  With six clubs across London and a further three in the pipeline, as well as plans for international openings, this opening marks an exciting stage in 1Rebel's expansion.
At street level, The Post Building will deliver 33,000 sq ft of high quality, flexible retail, leisure and restaurant space that features 135 metres of prominent, double-height frontage, which reflects the development's dramatic scale and refined design.  Flexible, flagship units fronting New Oxford Street, Museum Street and High Holborn vary in size from 1,400 sq ft up to 12,500 sq ft, offering best-in-class retail, leisure and F&B businesses the opportunity to showcase existing concepts and services to a diverse and engaged consumer base. Five units fronting High Holborn range from 600 sq ft through to 800 sq ft and are aimed at independent and emerging retailers and F&B uses.
The Post Building, which will complete later this month, is set to become one of London's most inspiring workplaces.  Comprising around 260,000 sq ft of offices and utilising the unique volume of the old Royal Mail Sorting Office, office occupiers will benefit from a range of amenities including a 7,500 sq ft rooftop garden with 360-degree views and a market-leading cycle provision, designed in collaboration with Rapha, which includes 440 cycle spaces, showers, lockers and a cycle workshop.
Giles Dean, 1Rebel Co-Founder, said: "The Post Building is an extraordinary space and, being located equidistant between Holborn and Tottenham Court Road (Crossrail) tube stations, heralds our arrival into London's West End. Our customers want a unique experience in a premium environment. The Post Building, with its commitment to design and heritage as London's former Royal Mail Sorting Office, enables us to deliver in this regard and continue our commitment to design spaces for our customers that are destinations in their own right. We look forward to bringing 1Rebel's and London's largest Reshape to The Post Building."
Chris Carter Keall, Managing Director and Head of UK Real Estate at Oxford Properties, said: "1Rebel is leading the way in London's boutique fitness market and represents an exciting addition to The Post Building.  Office occupiers increasingly understand the value that access to health and wellness amenities can have on creating a healthy, productive and engaged workforce.  1Rebel's innovative offering perfectly complements The Post Building's focus on wellness, which includes club-quality end-of-trip facilities for cyclists and runners and a rooftop garden accessible to all occupiers."
Alex Wright, Associate Partner at Brockton Capital LLP, said: "The Post Building's pivotal position at the meeting point of five key London neighbourhoods and only 350 metres from Crossrail at Tottenham Court Road is a big draw for retail, leisure and F&B occupiers.  This area is seeing rapid change with the combination of Crossrail, new buildings, much enhanced public realm and a wide variety of new businesses and uses adding to the rich heritage and buzz of this neighbourhood.  We are delighted to welcome 1Rebel to The Post Building and look forward to curating the remainder of the retail space with exiting offerings well-suited to the area's diversified and high-disposable-income footfall.  Following the pre-lets to Rothesay Life and McKinsey & Company, two thirds of the office space is now pre-leased with only two floors remaining, and with 1Rebel's commitment we now have approximately 24,000 sq ft of retail, leisure and F&B space available.
Located on a prominent island block bordered by New Oxford Street, Museum Street and High Holborn, The Post Building sits at the cultural crossroads of five key London neighbourhoods – Covent Garden, Bloomsbury, Soho, Holborn and Fitzrovia.  Both Tottenham Court Road and Holborn underground stations are located within a few minutes' walk, bringing excellent connectivity throughout London and beyond via the Northern, Central, Piccadilly and Elizabeth (Crossrail) lines.
1Rebel was advised by Steve Young of Lightlease and BPE. Oxford Properties and Brockton were advised by CMS Cameron McKenna Nabarro Olswang, with CBRE and Davis Coffer Lyons as joint leasing agents for the retail, leisure and F&B space. JLL, Pilcher Hershman and CBRE are joint leasing agents for the offices.
-Ends –