Acclaimed Danish bakers, Ole & Steen, to Open in London
July 28, 2016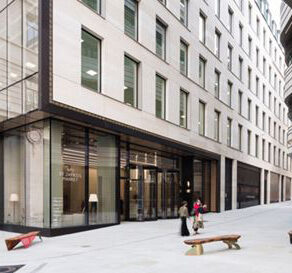 For years they've been revered throughout Denmark as bakers of extraordinary quality and innovation. Now, Ole Kristoffersen and Steen Skallebæk have decided to open their first restaurant outside of Denmark in the heart of London's West End, in the new St James's Market development.
Ole & Steen's restaurant, which opens in winter 2016, will offer a new concept and be their UK flagship. The duo's Lagkagehuset bakeries are hugely successful across Denmark with over 50 locations including several in Copenhagen. The London restaurant will offer all-day dining, including artisan breads freshly baked on the premises, cakes, pastries, Scandinavian flatbreads, soups, stews, salads and luxury sandwiches. The menu will also include single estate coffee and a small but carefully crafted wine and beer list.
The St James's Market restaurant is the latest addition to a growing portfolio of impressive brands for The Crown Estate and Oxford Properties' landmark £400m regeneration of the historic space between Regent St and Haymarket. Other restaurant concepts already announced for the development include Japanese brasserie, Anzu; Veneta, a Venetian-themed eaterie from the Salt Yard Group; and Nordic-inspired restaurant, Aquavit. Non-food residents will include private equity firm, the Carlyle Group and new concept stores from Jigsaw, Assos and Smeg.
Anthea Harries on behalf of the St James's Market Partnership said: "This flagship restaurant from two of Denmark's most famous bakers will create a fantastic dining experience for London's food lovers, combining fresh food, a cosy and cool Scandinavian-inspired setting and all the sounds and delicious smells of a bakery in full flow. Boasting the very best cuisine from across the world, St James's Market will provide a new dining destination within this transformed part of the iconic West End."
Ally Gordon at Ole & Steen added: "London is such a cosmopolitan city, and such a foodie city, that we know it's absolutely the best place to plant a flag for Ole & Steen outside Denmark. We've been patiently waiting for the perfect site and now we've found St James's Market which is perfect. We know that it will very quickly become the new, exciting destination for both London foodies and lovers of quality from overseas. We can't wait to fire up the ovens!"
Davis Coffer Lyons advises The Crown Estate on its food and beverage portfolio.