Dishoom expansion spices up St Martin's Courtyard offering
July 19, 2019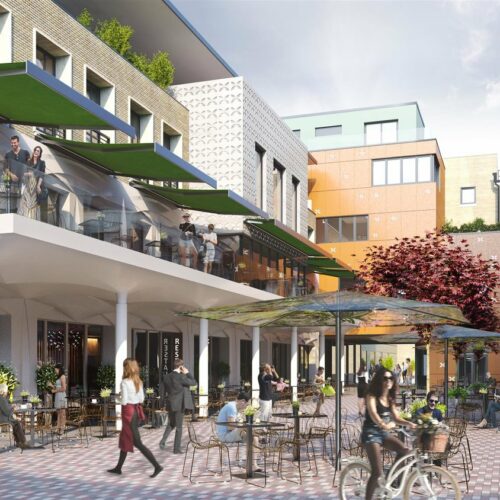 Longmartin Properties Ltd, a joint venture between Shaftesbury and The Mercers' Company, has announced the expansion of renowned Bombay café, Dishoom Covent Garden. The announcement of Dishoom's expansion marks the start of a wider £8 million refurbishment of St Martin's Courtyard.
Located at 11/12 Upper St Martin's Lane, anchor tenant Dishoom will undergo a major redesign to mark the restaurant's 10thanniversary, including an expansion into the neighbouring unit (formerly Jamie's Italian). By combining the units, the Dishoom team will look to create the best restaurant yet. Dishoom Covent Garden will be redesigned by creative partners, Macaulay Sinclair, the architecture and design studio behind Dishoom King's Cross, Carnaby, Kensington, Edinburgh and Manchester.  The first Dishoom opened in Covent Garden in 2010, and Dishoom now has five cafés in London, one in Edinburgh, and one in Manchester.
The new Dishoom Covent Garden will be launched in 2020,following the completion of the £8 million refurbishment of St Martin's Courtyard this December. St Martin's Courtyard will be transformed into an urban oasis in the heart of London's West End, providing a vibrant space for visitors to relax, shop and dine. Dishoom will be in good company alongside retail brands Lululemon, & Other Stories, COS and The White Company and the new concept Bill's. London-based architects, Brimelow McSweeney, were tasked for this project to introduce a new 'terrace colonnade' style dining area and additional restaurant opportunities all to be focal points within the courtyard. The sculptured two-floor seating will also feature an undercover space so dining can be enjoyed from day-to-night, all year round.
Commenting on behalf of Longmartin Properties Ltd, Charles Owen, Portfolio Executive at Shaftesbury, said: "We are entering a very exciting period for St Martin's Courtyard. Ten years on Dishoom remains a much-loved eatery and its expansion will not only mark a new beginning for the restaurant, but also the courtyard itself.
"The timely investment for St Martin's Courtyard will deliver an even more inviting and engaging destination, combining new brands and a new look with the high-performing existing offer to create one of the most appealing areas in London's West End and in readiness ofthe new Elizabeth Line and the anticipated increase in footfall to the Covent Garden area."
This news follows the recent launch by Longmartin properties of The Arbour building on 143 Long Acre. Designed by Iain Ritchie Associates features 4,000 sq ft of retail space and 7,600 sq ft of offices. These two significant projects total over £18 million of investment in St Martin's Courtyard this year.
Davis Coffer Lyons, Colliers and Hanover Green Retail are the leasing agents for St Martin's Courtyard. CBRE is the asset manager on behalf of Longmartin Properties. Graeme Wait acted for Dishoom.