Edinburgh Cashmere Brand, Kiltane Acquires First London Site
March 6, 2019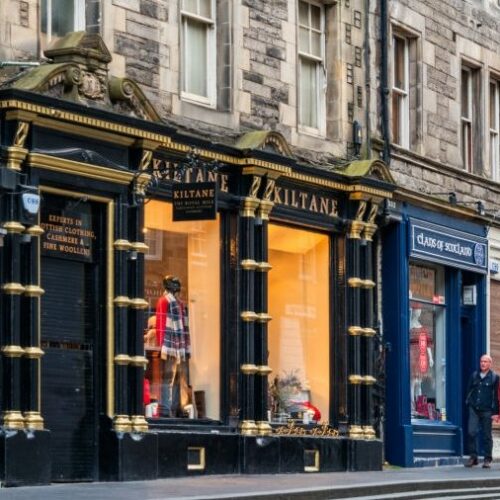 Kiltane, an Edinburgh-based retailer known for luxurious cashmere, fine woollens and tweeds, is to open new premises in London's Bloomsbury close to the British Museum.
Specialist leisure property advisers Davis Coffer Lyons has assigned the leasehold interest of 38 Museum Street, formerly trading as an independent coffee shop 'Syrup of Soot'. The fully fitted A1 site occupies 732 sq ft over ground floor and basement. A premium was paid for the lease, which has approximately 8 years remaining.
Kiltane is best known for its 100% cashmere and lambswool accessories, luxury knitwear and classic tweed tailoring. It also has an ongoing partnership with Harris Tweed of the Hebrides for a range of handbags and purses.
Louie Gazdar, Agency & Leasing, Davis Coffer Lyons, said, "This is a prime footfall area benefitting from numerous tourist attractions, offices and residents in the vicinity, so it's a great fit with Kiltane's growing high-end retail brand, and the historic location links well with strong heritage and values. This will be the first London outpost for the brand, which has also recently expanded its retail portfolio with store openings in York, Fort Augustus and added the Edinburgh based iconic brand Ness to the Kiltane portfolio."
The Museum Street store is close to local operators including Pizza Express, Flight Club, the Museum Tavern, Bibimbab Café, Prezzo and numerous independent operators. Davis Coffer Lyons acted on behalf of the outgoing tenant.
Davis Coffer Lyons acted for the outgoing tenant, Syrup of Soot. Nick Ware of Union Land and Property acted for Kiltane Retail.