Mathew Carver to Launch The Cheese Barge at Paddington Central
March 2, 2020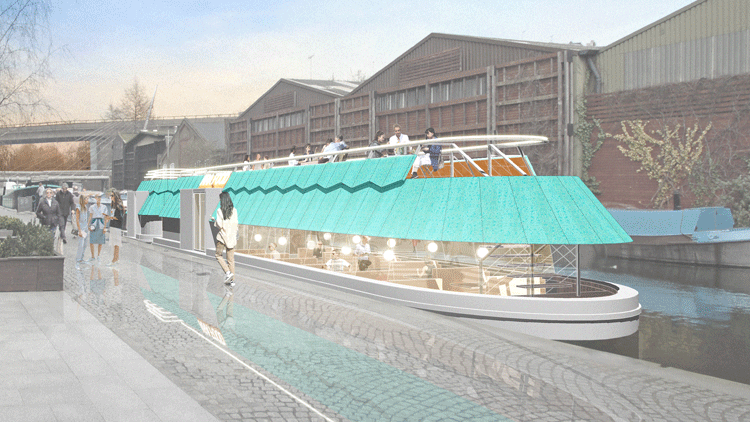 Mathew Carver is to launch a floating cheese restaurant on a permanent mooring on Paddington's Grand Union Canal – located within British Land's Paddington Central scheme – called The Cheese Barge.
Carver, who is behind Camden Market's Cheese Bar and Pick & Cheese in Seven Dials Market, will launch the floating cheese restaurant this April, serving seasonal dishes that showcase the best of British cheese.
Davis Coffer Lyons completed the deal on behalf of Paddington Central landlord British Land's 'mixed used neighbourhood' just north of Paddington Station. The Cheese Barge will join the line-up of other barges within this unique canal dining destination, including Australian café Darcie & May Green and seafood specialist London Shell Co.
The double-decker vessel is currently under construction in Somerset, designed by Adam Richards Architects and inspired by the nautically themed Electa Bookshop in Venice. Below deck, a 40-cover restaurant will be overseen by executive chef Ross Keeling and head chef Reagan Ellenbroek, who promise "honest British dishes using small producer cheese". Upstairs, the open-air deck will provide a casual spot for wine, cheese and charcuterie.
Mathew Carver said: "Hailing from Jersey I spent my childhood years messing around in boats so when the opportunity to open the Cheese Barge came along, I couldn't say no. The fact it was British-made by craftsmen appealed to our continued efforts to support British industry. We've always set out to create fun restaurant experiences and what could be more fun than eating the best of British cheese on the Grand Union Canal?"
The launch menu includes Windrush Goats' Curd with lamb scrumpets and pickled walnuts; Cropwell Bishop Stilton devils on horseback; and Maida Vale, a washed rind cheese from Village Maid, served on treacle soda bread with smoked mackerel and green sauce. The menu will also include larger sharing dishes such as aligot – cheese blended into mashed potatoes – made with Mrs. Kirkham's Lancashire; and a half-kilo Baron Bigod, made bespoke by Fen Farm Dairy for the Barge, and served baked to order.
In keeping with Carver's other venues, The Cheese Barge will also serve seasonal British cheeses paired with complimentary ingredients including Spenwood with quince and almond fruit cheese; Winslade with chilli dukkah; and St Andrews Cheddar with green kimchi.
World Cheese Awards judge Mathew Carver founded The Cheese Truck in 2014 and – following a successful crowd fund – opened The Cheese Bar in Camden Stables Market in 2017. Last year, he launched the world's first conveyor belt cheese restaurant at Kerb's Seven Dial's Market in Covent Garden.