Restaurateur Lee Landau takes on Kosher institution Reubens on Baker Street
August 19, 2019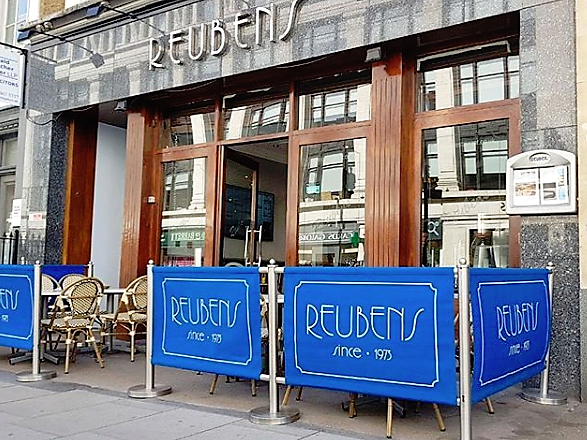 Leisure property advisers Davis Coffer Lyons (DCL) has completed the sale of the iconic kosher restaurant Reubens on London's West End to restaurateur Lee Landau the man behind the Jewish restaurant group 'S Group'.
The operator –already runs a collection of kosher cafes and restaurants across London – including SOYO, the healthy style cafe in Golders Green, Edgware and Borehamwood; PIZAZA a pizza & milkshake offering in Hendon, Golders Green, Edgware and Borehamwood; Delicatessen in Hampstead serving modern middle eastern food; and Pita a Middle Eastern street food stop  in Golders Green. The group also has more sites under development that will be launching in the coming months.
DCL was instructed to sell Reubens in June 2019, the last kosher restaurant operating in the West End – after it closed its doors following 46 years on Baker Street due to a family bereavement.
The 3,376 sq. ft. site was sold on a new A3 lease, quoting rental offers in the region of 125,000 per annum exclusive. The property is situated at 79 Baker Street within the Portman Estate Conservation Area and is close to Baker Street Underground. The restaurant is arranged over the ground and basement floors of a four-storey terraced Victorian brick building. The ground floor is furnished to a high standard and includes a large deli counter, as well as a basement with additional seating, and vaults. The new owners are giving this iconic destination a face-lift as well as developing a new restaurant downstairs that will launch at a later date.
Jonathan Moradoff, Director, Agency & Leasing, Davis Coffer Lyons, said, "Reubens had become a culinary institution in the Jewish community over many generations, as well as for tourists enjoying attractions in the area. Lee Landau already has a very highly regarded reputation in kosher cuisine which puts him in a fantastic position to capitalise on the following that Reubens has established over so many decades in London." Landau comments 'We are thrilled to be giving Reubens another lease of life, whilst importantly maintaining the integrity of this well-loved institution.'