The O2 feeds appetite for the best vegan, street food and international restaurants
February 13, 2019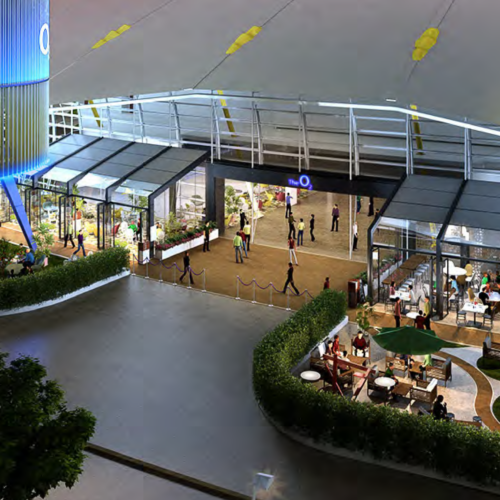 Following the recent opening of ICON Outlet, a 210,000 sq ft premium urban outlet development by AEG and Crosstree Real Estate Partners, The O2 has announced a new wave of restaurants set to open shortly, cementing its position as the best destination for world-class retail, dining and entertainment.  Taking the total number of bars and restaurants under the world-famous tented roof of The O2 to 34, the best vegan, street food and international restaurants will be opening this spring including by CHLOE., Hai Di Lao, Hook, Beer + Burger, Benito's Hat, Thunderbird and Scarlet.
Complementing the existing food and beverage offering at The O2, and appealing to ICON Outlet's new retail audience, phase two of ICON Outlet's development will introduce a selection of new flagship restaurants with exclusive open-air gardens, including:
• New York's hip fast-casual plant-based brand, by CHLOE., is first on the menu to open a 5,400 sq ft restaurant. Featuring a 1,500 sq ft external garden oasis, and offering visitors delicious, wholesome, vegan food that fuels and energizes without compromising flavour or taste
• China's biggest hot pot restaurant brand, Hai Di Lao, is also set to open a 8,200 sq ft restaurant with a 2,800 sq ft mezzanine, in May. Serving Chinese-style hotpot, the brand is well renowned for its flavored soup into which diners place meat, vegetables and noodles. This will be the second European restaurant following its recent announced opening at The Trocadero in Piccadilly Circus
Among the highly successful entertainment district and located beside the newly extended 19-screen Cineworld complex at The O2, London's hottest street food retailers will be launching their latest sites, including:
• Starting with a simple market stall in Dublin, Hook, will be opening their second site in London following the success of their Camden site, renowned for a 'new-school' take on the classic fish and chips the brand only works with 100% sustainable small fisheries, day-boats and local suppliers
• Serving mouthwatering 'dude' food, Beer + Burger will open its fourth site in London at The O2, the independent is known for its straightforward menu choice with just six burgers and an extensive selection of craft beer
• Vibrant Mexican street food operator Benito's Hat, will bring its famous burritos and margaritas to The O2, Benito's will be the brand's fourth site in London, visitors can expect to experience Mexico's rich culinary culture in a funky and warm atmosphere
• Former NASCAR racer Matt Harris, fries chicken using traditional recipes with a modern twist, boasting the best wings in London, Thunderbird will open its third site, following its stalls at Canary Wharf and Dinerama in Shoreditch
• Bringing authentic traditional street food of India to life, Scarlet, will use the best quality fresh halal food and ingredients cooked in authentic Tandoori grills, woks and ovens for a true taste of India
Speaking on behalf of AEG and Crosstree, Marion Dillon, Leasing Director for ICON Outlet and The O2, said: "These latest additions bring an exciting food theatre to our existing food and beverage line-up at The O2, and together with the retail offer from ICON Outlet create an unrivalled and trend-led destination for our customers. Located just minutes from central London, the destination places an emphasis on customer experience, with brands deliberately chosen that will appeal to visitors in pursuit of engaging and inspiring retail and dining offers."
A spokesperson at Hai Di Lao, added: "Our footprint in the UK is expanding and we are excited to confirm our second site in the capital will be at The O2. We're delighted to bring our popular hot pot menu to North Greenwich giving us exposure to such a significant high volume of footfall and impressively wide demographic. This was a totally unique opportunity for us which we were keen to embrace."
Samantha Wasser, Co-Founder of by CHLOE., said: "We are so proud to be one of the first food and beverage brands to join the ICON Outlet at The O2.  We look forward to opening our third by CHLOE. store in London and meeting our new customers at The O2. We have a few fun surprises lined up for the launch that we cannot wait to share!"
The launch of ICON Outlet means visitors to The O2 are now able to enjoy a 360-degree experience that fuses retail, dining and entertainment. ICON Outlet defines urban outlet malls and has been developed to appeal to a cross-section of key consumers, including the residential catchment, current visitors to The O2, city workers and London's tourists. Served by the Jubilee Line, MBNA Thames Clippers and the Emirates Air Line, it is easy to reach for the majority of the capital's ten million population, as well as the 31 million domestic and foreign visitors to London every year.
Davis Coffer Lyons and Lunson Mitchenall are the F&B leasing agents for The O2. Richard Thomas now of Fleurets represented Hai Di Lao.
About ICON Outlet
ICON Outlet is a joint venture between AEG and Crosstree Real Estate Partners. The 210,000 sq. ft. premium urban outlet brings shopping for the first time to The O2, the world's most popular music and entertainment venue. Together with the construction of a 50,000 sq. ft. cinema extension and a 30,000 sq. ft. trampoline park, leased to Oxygen Freejumping, The O2's offering is evolving to reflect the consumer-led convergence of retail, leisure and entertainment.  ICON Outlet provides the best of accessible premium fashion and lifestyle brands and is just 15-minutes from central London, served by the Jubilee Line, MBNA Thames Clippers, bus services, Crossrail (at Canary Wharf from 2019/2020), and the Emirates Airline.
About The O2
The O2 is the world's most popular music and entertainment venue. Since opening in 2007, it has been visited by more than 70 million people and in 2017 was named Pollstar 'International Venue of the Year' for the tenth time.
In addition to the arena, The O2 is also home to indigo at The O2, a live performance space; Up at The O2, a guided walk across the tented roof; ICON Outlet, London's new premium outlet shopping destination; a vast multi-screen Cineworld complex; the 12-lane boutique Hollywood Bowl; an Oxygen Freejumping trampoline park; The Avenue, which features 26 bars and restaurants and 'Mamma Mia! The Party', an immersive theatrical and dining experience opening in summer 2019.
About AEG
Headquartered in Los Angeles, California, AEG is the world's leading sports and live entertainment company. With offices on five continents, AEG operates in the following business segments: AEG Facilities, which is affiliated with or owns, manages or consults with more than 120 preeminent arenas, stadiums, theaters, clubs and convention centers around the world including The O2 Arena, the Sprint Center and the Mercedes-Benz Arenas; AEG Presents, which is dedicated to all aspects of live contemporary music performances, including producing and promoting global and regional concert tours, music and special events and world-renowned festivals; AEG Real Estate, which develops world-class venues, as well as major sports and entertainment districts like STAPLES Center and L.A. LIVE; AEG Sports, which is the world's largest operator of sports franchises and high-profile sporting events; and AEG Global Partnerships, which oversees worldwide sales and servicing of sponsorships including naming rights, premium seating and other strategic partnerships. Through its worldwide network of venues, portfolio of powerful sports and music brands and its integrated entertainment districts, AEG entertains more than 100 million guests annually. More information about AEG can be found at www.aegworldwide.com.
About Crosstree
Crosstree Real Estate Partners is a private real estate investment firm with a focus on the UK market.  Founded in 2011 and based in London, Crosstree seeks properties in dynamic mixed use areas that require significant capital investment and offer compelling long term prospects through active repositioning and quality design.  Crosstree's portfolio includes a variety of projects across London including office properties, retail and leisure space, hotels and residential development.  In addition to The O2, some of Crosstree's most significant projects include The Berkeley Estate (a collection of mixed-use buildings in Mayfair opposite The Ritz), The Standard, London (a 270-bedroom hotel under development in King's Cross), and The Bower, Shoreditch (a 400,000 sf office-led redevelopment on Old Street Roundabout).  We concentrate on a few exceptional schemes at any one time, and seek to work with best-in-class partners, professionals and designers.
Further information can be found at www.crosstree.com.
About by CHLOE.
by CHLOE. is a fast-casual brand that opened its flagship location in the heart of the West Village in New York City in July 2015.  The plant-based restaurant aims to offer delicious, wholesome, vegan foods that fuel and energize without compromising flavor, taste or satisfaction. Since opening in 2015, by CHLOE. has grown to 13 locations around the world including New York, NY; Boston, MA; Silverlake, CA; Providence, RI; and London, UK. In September 2016, by CHLOE. opened Sweets by CHLOE., a plant-based bakery with two locations in New York City in the West Village and Seaport District. by CHLOE. will open additional locations in New York City and London and is excited for continued expansion.